Made By:
Jada Toys
Scale:
1/24
MSRP:
US$24.99
Overview:
Packaging (Design):
8/10
Packaging (Durability):
7/10
Casting (Body):
8/10
Casting (Interior):
8/10
Casting (Chassis):
8/10
Casting (Engine):
8/10
Paint (Exterior):
9/10
Paint (Interior):
N/A
Paint (Trim/Graphics):
10/10
Overall Panel Fit:
9/10
Total Score:
8.3/10

Other Impala Models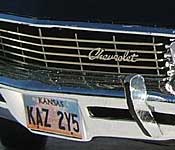 Cult of the Dead Cow Rocket Sled
Transformers 4 Roadbuster
The Bourne Ultimatum NYPD car
Transformers 4 Leadfoot
Supernatural Impala
Jada 20th Anniversary '58 Chevy (Review)
Supernatural Impala (Review)
Other Jada 20th Anniversary Models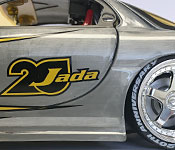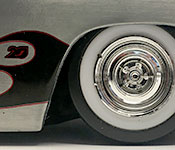 2011 Ford SVT Raptor (Review)
1969 Chevrolet Camaro (Review)
1958 Chevy Impala (Review)
1993 Mazda RX-7 (Review)
1959 Volkswagen Beetle (Review)
1962 Volkswagen Bus (Review)
2010 Chevy Tahoe (Review)
1963 Chevy Corvette Sting Ray (Review)
1951 Mercury (Review)
1955 Chevy Stepside Tow Truck (Review)
1939 Chevy Master Deluxe (Review)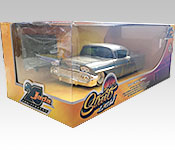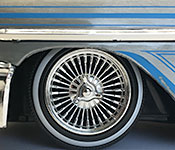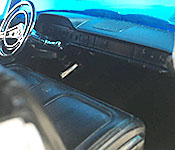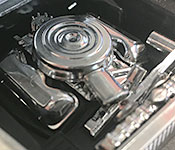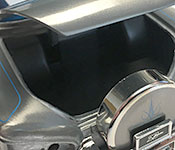 Background
Classic cars, wire wheels and white walls; a slow cruise down the street so everyone can see you. That is what Low Riding is about and Jada Toys represented this culture well in 1999 with the brand Street Low.
Packaging
Jada's 20th Anniversary packaging is a nice mix of their current packaging design with an old school flavor. With its yellow and purple fade color scheme, rounded front window panel, "Street Low" series title in the bottom left and monochrome ghost image of the '58 Impala in the bottom right, this immediately recalls their earliest packaging while still being part of the current lineup. A brightly colored "Jada Toys 20th Anniversary" appears on every panel (with a metallic silver edge on the front). The back panel has the above-quoted paragraph reflecting on Jada's 1999 "Street Low" series next to a photo of the Impala and two pics of the mosaic that can be assembled by collecting all 20 cars in the series. The interior tray has a plastic tray and two screws holding the car in place, and plastic bands holding the hood, doors, and trunk closed. A second small tray mounted to the back panel behind the car's hood holds the mosaic tile.
Casting/Paint
While the '58 Impala isn't one of Jada's first releases, it has been around long enough to have been part of that original "Street Low" line (as well as repaints in the "Showroom Floor" and "Dub City: Old Skool" lines). Assuming this is that same tooling, it either held up very well or got a refresh for the 20th Anniversary series. The lines of the heavy diecast body are clean and the panels are generally smooth, with only a few minor bumps visible under close inspection. The worst of them is at the top corners of the windshield frame, and even those aren't too bad. Chrome plated plastic is used for the grille, hood lip, headlight bezels, side spears, rear bumper, and spare tire cover. Clear plastic is used for the headlights, while the glass is transparent blue and the six taillights are transparent red. "Paint" appears to be gloss clear and an elaborate blue pinstripe pattern over an otherwise unpainted base. The spare tire cover is painted to match, and the wing window frames are painted a brighter silver to suggest stainless steel trim. The bare metal finish was a risky venture after their previous attempt, but whatever lessons needed to be learned from that seem to have taken, as this is a beautiful brushed look that compliments the car perfectly. Aside from the base and pinstriping, "Street Low" is printed at the bottom center of the back window and a discreet "20" badge is printed on each flank.
The interior is primarily black plastic with chrome pedals, mirror, and steering wheel/column. The pedals were loose on mine, and taking it apart I discovered that the joint between the pedals and firewall was never properly formed. It was easily fixed with a spot of glue, though it is unfortunate that the problem existed in the first place. Other than that, the interior parts are all nicely formed and detailed.
The engine is a group of chrome parts set on a black block, and while the bay is fairly shallow the parts do a good job of making things look deeper and more complex. The intake manifold, air cleaner, valve covers, belt assembly, and radiator are all separate pieces, simplified a bit but still recognizable. The trunk is a simple black box. The chassis is Jada's usual shallow casting, though it has all the correct details like the steering linkage, engine, transmission, A-arms, dual exhaust, 4-link rear, gas tank, and spare tire well. Tires are mid-sized white walls over chrome spoked wheels.
Features/Accessories
The hood, doors, and trunk all open, and all hinges work smoothly and hold position easily. Also included is a 3" x 2" (75mm x 50mm) metal tile featuring the 20th anniversary logo, "Street Low" series logo, and initial series release year (1999). The reverse side has part of a mosaic that will form a large anniversary logo if you collect all the cars in the series. It's finished in the same clearcoated metal as the car, and has a small black plastic easel so it can be put next to the car as a sort of show plaque.
Accuracy
This is Classic Jada in every sense of the word: recognize it as such, and enjoy the work done here. Scale is actually pretty close for Jada, coming in at 1/23 and change. I do also have to note that this, like every other release of the '58 Impala I've seen, has the valve covers on upside down...apparently no one at Jada's QC is familiar with the Chevy 409.
Overall
Hard to believe it's been 20 years, though this Impala is actually a good analogy for Jada as a whole during those two decades: most of what I see is very, very good, marred by one or two bad spots, and then in the middle of it is a totally out-of-left-field head scratcher. But in the end I like Jada, and I like this '58 Impala - blemishes and all.
Have a question, comment, or criticism about this review?
Send me an e-mail
with your thoughts!