Site Features
Getting Started in the Hobby
Model Categories
Original Kit:
Honda CRX
Made By:
Fujimi (kit #18876)
Scale:
1/24

Other 2000s Movie Models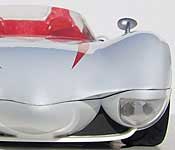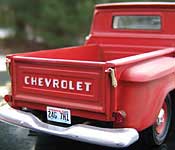 Sex Drive 1969 GTO
Gone in 60 Seconds Eleanor (Review)
Avatar AT-99 Scorpion
Harry Potter Anglia 105E
Hidalgo
Fast & Furious '70 Charger
Collier & Co: Hot Pursuit Traveller
Ghost Rider Stunt Bike (Review)
Megafault Dodge Ram
P2 Oldsmobile Cutlass Supreme
2012 Lincoln Town Car
Transformers Bumblebee
Charlie's Angels 1969 Camaro
Alone in the Dark VW Touareg
xXx '67 Pontiac GTO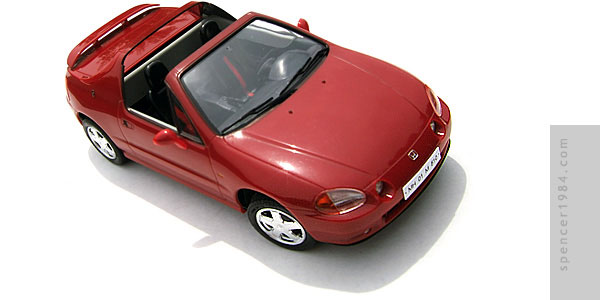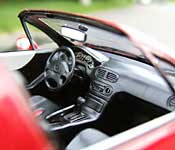 Cool Fact
Ayesha Takia won the 2005 Filmfare Best Female Debut Award for her role as Priya in Taarzan.
I rarely build unmodified models, and while this one isn't technically "box stock" it's far closer than I usually get. This allowed me a unique opportunity to try something I've been wanting to do for a while: leave the body entirely unpainted. The inside of the body was painted black to prevent light from shining through it, but the red is simply the raw plastic polished with Novus and all of the trim was done with ink. This meant that I had to be very careful about preparing the body, since I wouldn't be able to go back and use any fillers or paint to correct mistakes. Sanding sticks were used to remove the parting seams and sprue attachment points, then wet sandpaper was used to smooth the finish as much as possible. Novus' 3-2-1 liquid polishing compounds were used to remove the last of the scratches and buff the body to a shine.
The chassis was painted and weathered to make it look like it was a daily driver. Wheels from Hasegawa's Honda Civic and a set of movie-accurate license plates completed this model