Site Features
Getting Started in the Hobby
Model Categories
Original Kit:
1974 Pinto
Made By:
MotorMax
Scale:
1/24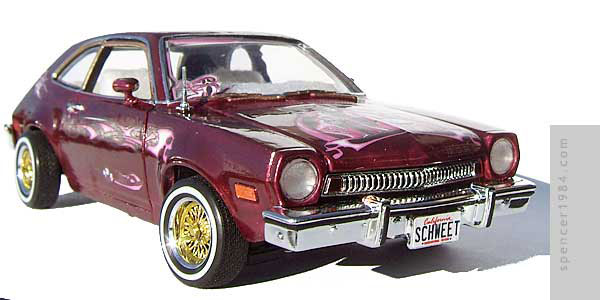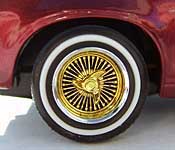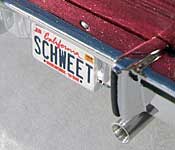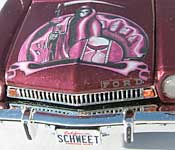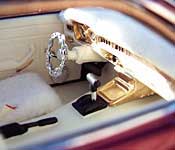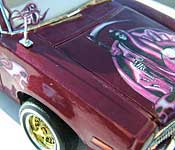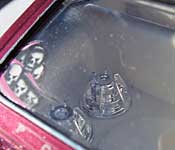 Although the video for The Offspring's "Pretty Fly (for a White Guy)" did a good job of capturing the wannabe described in the song, there was one glaring error: the lyrics indicated that his ride was as lame as everything else in his life, while the video used an actual cool car. So I decided to make my own lowrider Pinto using the various spare parts I had left over from other builds.
I wanted the car to reflect the incompetence of the song's protagonist, as if he had lots of ideas about what should be included but no skill in implementing those ideas. The base car is MotorMax's '74 Pinto kit, brush painted using nail polish to achieve a somewhat uneven "home painted" look. Once this was dry, the car was clearcoated and decorated using graphics from Revell's '64 Impala kit, Bare Metal Foil, and Metal tape. Gold paint was used for the side window surrounds, fuel cap, and windshield wipers. The wheels were taken from Revell's Cadillac kit and actually mated up to the axle mounts with very little trouble.
The interior was similarly modified to look as cheesy as possible. The front seats and dash pad were covered with sticky-backed felt for a great "fake fur" look, the steering wheel was replaced with a chain link wheel from my parts box, and several components on the door panels and dash face were painted gold. Of course, he still needed a kicking sound system, so a set of speakers from Jada were used along with the factory-installed radio (and no amp).
The rest of the kit went together with little trouble, and the car was finished with a set of "SCHWEET" license plates.