Site Features
Getting Started in the Hobby
Model Categories
Original Kit:
Lamborghini Murcélago
Made By:
Bburago
Scale:
1/24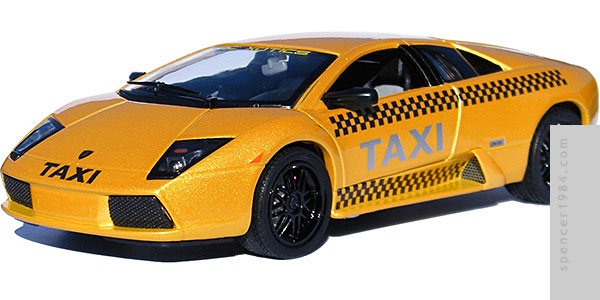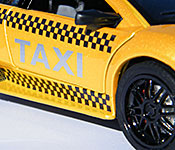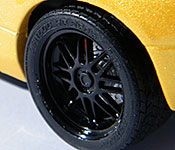 It always amuses me when Lamborghinis are used for things that Lamborghinis were never designed for. The pinnacle of that may have come with the music video for Nicki Minaj's "The Night is Still Young," where a Murciélago served duty as a checkerboard-clad taxi cab. Well, sort of: whoever was in charge of the CGI didn't take great pains to make sure the markings lined up with the side of the car correctly. The only graphic that was actually applied to the prop car was the "OC Xotics" sticker on the windshield.
Since Bburago made a near-perfect base model, I thought this could be a fun weekend project. I started by removing the original license plates and wheels. The new wheels were a set of XS Tuning C2 Sport wheels and brakes with parts box tires. To get the proper offset (all four wheels are the same out of the box), I glued the rear wheels further in from the tire sidewalls. Then when the wheels were painted, I extended the paint out to the first sidewall rib. This not only made the rear wheels appear wider, it created the impression of lower profile tires at all four corners.
The graphics were custom decals I drew up in Illustrator. I printed the checkerboards and "taxi" on the nose onto clear decal stock from BMF, and the windshield sticker and door "taxi" signs were printed by Fireball Modelworks. Because the video's graphics were just superimposed over the car in the video, I had to make a few adjustments to fit an actual 3D object. In the end I think it worked pretty well.