Site Features
Getting Started in the Hobby
Model Categories
Original Kit:
Monster Garage Wedding on Wheels
Made By:
Muscle Machines (kit #82111 A3)
Scale:
1/24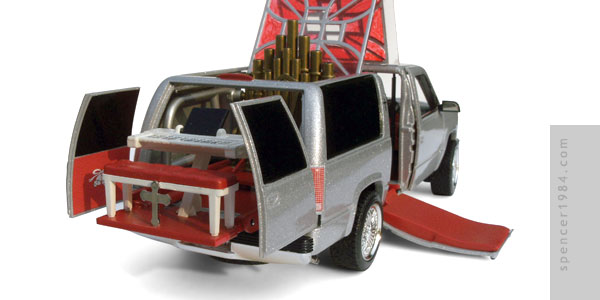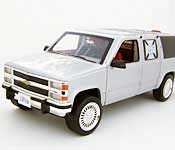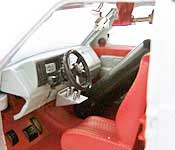 Cool Fact
Jesse James became an ordained minister through the Universal Life Church for this episode, so that he could officially perform the marriage ceremony at the end of the episode.
From time to time, I like taking a break from detailing, weathering, and painting to put together a "breather" kit. This was one of those: a straight, box-stock buildup of the '94 Chevy Suburban from the "Wedding on Wheels" episode of Monster Garage. This was one of three 1/24 kits made by Muscle Machines (the other two were the tree shaker and pontoon boat), and made for a quick & easy project. The only problem spot I encountered was a broken hinge on the keyboard deck. Otherwise, everything went together easily with some minor clean-up and detailing (including a set of show-accurate license plates). What's nice about this kit is that everything snaps or screws together, so if I decide to go back and redo it one day (a scratchbuild organ made of brass tubing would look great) I still have that option.