Site Features
Getting Started in the Hobby
Model Categories
Original Kit:
1969 Dodge Charger R/T
Made By:
Revell-Monogram (kit #85-2546)
Scale:
1/25

Other Charger Models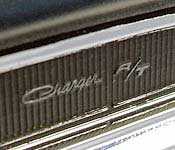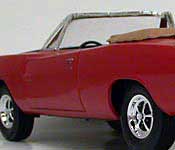 Need for Speed '69 Charger (Review)
Blade'68 Charger
Half-Life 2 Muscle Car
"City Slicker" '69 Charger
Furious 7 Maximus Charger (Review)
Dukes of Hazzard General Lee
Collier & Co: Hot Pursuit Traveller
Furious 7 Off-Road '70 Charger
Joe Dirt '69 Charger Daytona
Bullitt Charger
Dirty Mary, Crazy Larry '69 Charger
'67 Charger (Review)
The Philadelphia Experiment Charger
Wheels of Terror Charger
Death Proof '69 Charger (Review)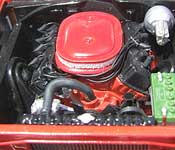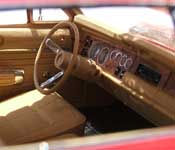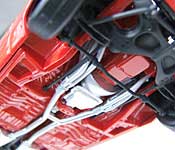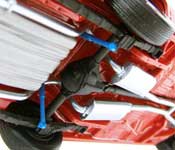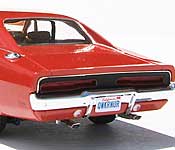 Traveller was built much the same way as my General Lee: I started with Revell's '69 Charger, sanded off the vinyl top, and swapped the Mopar Mags for a set of Vector wheels from AMT's Eckler Corvette. Traveller also got a few other modifications: the 440 and manual transmission were replaced with a Hemi and automatic (made by combining parts of Lindberg's Dodge 330 and AMT's '69 Roadrunner), the "buddy seat" was made by modifying a parts box seat, and the new steering column and roll bar were scratch built.
The color is Chrysler Industrial Orange, which looked like a near-perfect match for the red-orange shown in the movie. To be fully screen-accurate, I should've painted the undercarriage black like I did on the General. But since Traveller was practically a show car (once the "camouflage" was removed), I thought the fully-painted unibody was appropriate. A set of custom license plates and K&N and SE graphics from Reproalabels finished the look.