Site Features
Getting Started in the Hobby
Model Categories
Original Kit:
The Space Rescue
Made By:
Thinkway
Scale:
Approx. 1/24

Other Pixar Models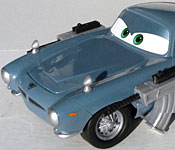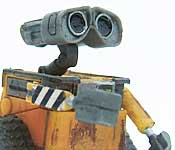 Cars 2 Finn McMissile (Review)
Cars Mack (Review)
Cars Doc Hudson (Review)
Cars Lightning McQueen
Cars 2 Francesco Bernoulli (Review)
Other Robot & Cyborg Models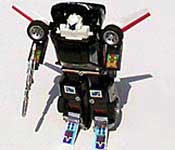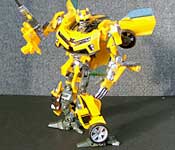 The Day the Earth Stood Still Gort
Revenge of the Fallen Bumblebee
JGSDF 07 Tank Nacchin
LEGO Optimus Prime
KONGO Attack Vehicle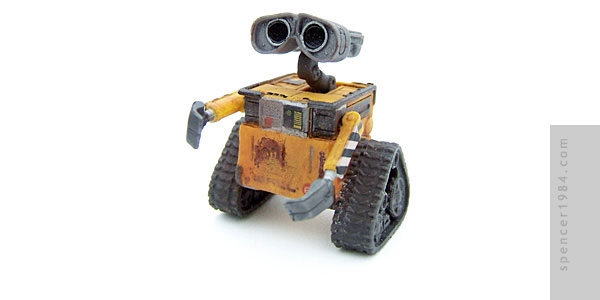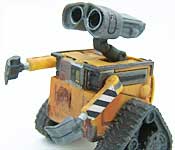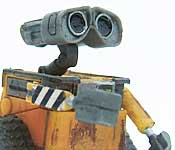 WALL·E continues the tradition of excellent Pixar movies, creating a track record that few studios can hope to match. The only thing that was lacking until Cars was a toyline that fit in with the rest of my collection. Although there still weren't any exact matches with WALL·E, the "Movie Scenes" figures turned out to be pretty darn close.
I picked up "The Space Rescue" from Toys R Us, as it had the least scene-specific figures in this size. WALL·E was stuck to a fire extinguisher, but Eve was perfect right out of the package (technically she had a parting seam that should've been removed, but it's difficult to see against her stark white so I ignored it). The extinguisher was actually plugged into WALL·E's chest, so removing it left a large rectangular hole. I wanted to retain as much of his original paint as possible, so I very carefully filled in the hole, sanded it smooth, and re-scribed the panel lines. I then painted the new panel using Floquil railroad colors, and added some dirt and rust to reflect the weathering seen in the movie. I also did some touch-up around his head and the top of his body, and repositioned the arms so they looked less like he was holding an invisible fire extinguisher. All in all he was a neat little figure, and with a little bit of work he is able to fit in with the rest of my 1/24 collection quite nicely.