Site Features
Getting Started in the Hobby
Model Categories
Original Kit:
Citroën TA 15 CV
Made By:
Bburago
Scale:
1/24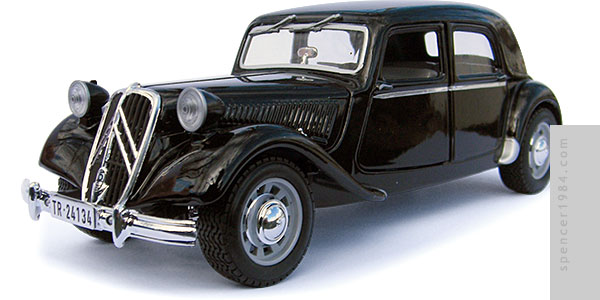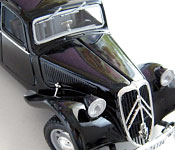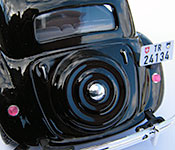 Cool Fact
The Crawling Eye was the first movie mocked on Mystery Science Theater 3000 after its move from local network KTMA to Comedy Central
Once again Bburago comes through with a decent diecast vehicle that required little more than correcting a few details. Though in this particular case, figuring out what the details were supposed to be in the first place was a bit tricky. The Trollenberg Terror was hardly shot in HD, so for a few things I had to give it my best guess.
The first and most obvious change was the grille, which was a single chrome piece on the diecast but had black-painted bars in the movie. I also lowered the headlights (the mount stalks were too tall), added wipers, and painted the door and trunk handles. The side trim and spare tire cap were made from metal tape and BMF, respectively. The license plates were made in Illustrator, sized to match vintage Swiss plates and using the Canton abbreviation "TR" to represent the fictional Trollenberg Mountain setting (I made the canton's flag a silhouette of the Eye Monster over a yellow field, based on the movie poster).
The last detail I needed to correct was the taillights. Bburago's diecast had only a single light on the left fender, which was cast as part of the license plate bracket and held to the fender with a massive clip. Removing it was easy enough, but left two big holes in the fender. I very carefully filled the top hole with a square of plastic, then blended it into the fender with superglue/baking soda, Tamiya filler putty, and paint. It was delicate work since I didn't want to have to repaint any more than what was absolutely necessary, but in the end I'm very happy with the results. The bottom hole was covered by the new light (taken from my parts box), and a mate was mounted in the same position on the right fender.