Original Kit:
1969 Dodge Charger R/T
Made By:
Revell-Monogram (kit #85-2546)
Scale:
1/25

Other Charger Models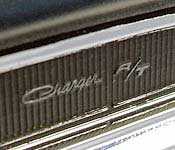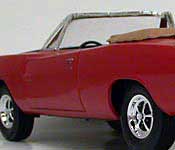 Collier & Co: Hot Pursuit Traveller
The Fast & the Furious '70 Charger
Furious 7 Maximus Charger (Review)
Fast 5 '11 Charger Rio Police (Review)
Dukes of Hazzard General Lee
Wheels of Terror Charger
Furious 7 '70 Charger
Bullitt Charger
Furious 6 '69 Charger Daytona
'69 Charger (Review)
Fast & Furious '70 Charger
Need for Speed '69 Charger (Review)
Blade'68 Charger
Agents of SHIELD Hell Charger
Dirty Mary, Crazy Larry '69 Charger
Other 1980s Movie Models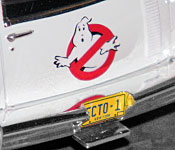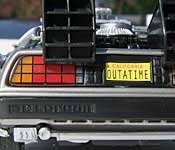 Batman Batmobile
Stroker Ace Thunderbird Stock Car
Transformers Hot Rod (Review)
Smokey & the Bandit 2 Firebird T/A
Ghostbusters Ecto-1 (Review)
Gone in 60 Seconds 2 Slicer
Ghostbusters Ecto-1
The Karate Kid Ford Convertible
The Philadelphia Experiment Charger
Tron Light Cycles (Review)
Night of the Comet 1953 Buick (Review)
The Dead Pool R/C Corvette
Never Too Young to Die Corvette
Gremlins VW Beetle
The Junkman 1981 Corvette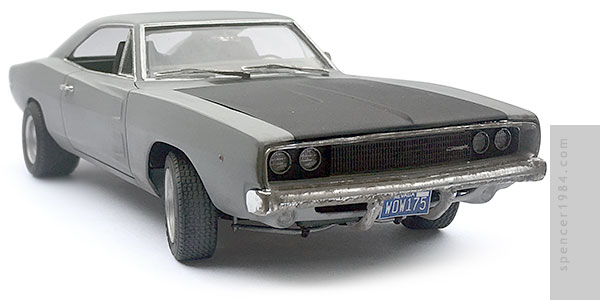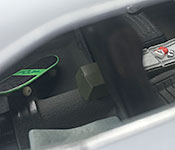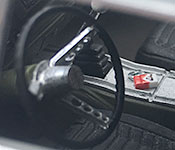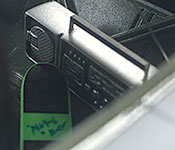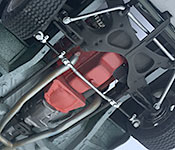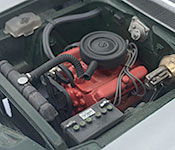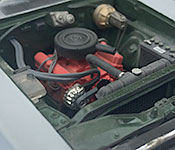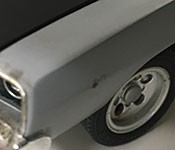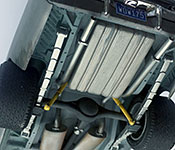 Although this is far from the most popular 2nd generation Charger in film—and wasn't even a particularly big part of The Philadelphia Experiment—I really liked the no-BS primer-and-black look (a look that would enjoy more popularity in pro-touring trim with Vin Diesel). Its brief appearance did mean that I had a lot of room for interpretation, even more than usual.
My first modification was an engine swap. One of my long-term hobby plans is to make a representation of every option offered on the 1968-70 Chargers, and so for this one I wanted to include the base 318 V8. The engine that comes in Lindberg's L-100/Little Red Wagon isn't the most finely detailed, but still a passable representation of the pre-1970 LA engine. I swapped its poorly formed transmission with one from the Charger kit, upgraded details like the starter, oil filter, and alternator, replaced the fan with a correct 4-bladed piece, and added wiring and plumbing. A few adjustments were needed to get the exhaust pipes and engine mounts lined up, but considering how different the kits were the engine fit surprisingly well. The radiator came from my parts box and was connected to the engine with guitar wire and plastic hose.
In addition to the altered header pipes, the chassis was modified with an 8¾" rear axle from AMT's '71 Charger and brake drums from Scenes Unlimited. Details of the wheels were never shown in the movie beyond "deep dish matte silver," so I used an idea suggested by a friend and went with a set from Bburago's Lamborghini Countach. They're not 100% accurate Lambo wheels, which gave them a perfect "inspired by" appearance that fit this '80s build. A set of parts box tires fit the wheels well enough, and the mount holes fit the axle stubs perfectly.
We also never got to see the interior, though it looked like the silhouettes of high-back seats were visible through the windshield so I used a pair from Jada's Fast & Furious Charger. I also left out the back seat and replaced the steering wheel with one from my parts box. To add a little more interest, I also added a few personal items that seemed appropriate for the time and occupants: a pack of cigarettes, a Zippo, a skateboard, a couple cushions, and a massive boom box.
The body appeared to be in pretty good shape in the movie despite the primer finish, which actually seeemed appropriate for the desert setting. So with that I decided to make it an "in progress" custom rather than a junker. Modifications were limited to removing the vinyl top, filling the corner marker lights, and deepening the panel lines. The '68 panels and headlights were taken from my parts box, and the license plates were drawn up in Illustrator. The new corner markers were made from some chrome circles that were included in the set that has previously provided dook locks, mount pins, and other details.
The chassis, engine bay, and other areas were painted to look like the original facory Racing Green was still showing, then top coated with Napa gray primer. Panel lines were further accented with a black wash, and finally a light weathering was done using Dullcote, chalks, and AK Interactive paints.