Site Features
Getting Started in the Hobby
Model Categories
Original Kit:
1961 Volkswagen
Made By:
Fabbri Editori
Scale:
1/24

Other 1970s Movie Models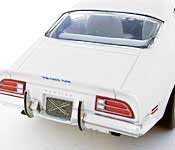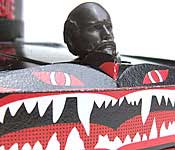 The Car Kustom Lincoln
Star Wars Luke's Landspeeder
Animal House Deathmobile
Diamonds are Forever '71 Mustang
Duel Peterbilt Tanker
The Godfather Cadillac
Kelly's Heroes Jeep
Smokey & the Bandit Firebird T/A
American Graffiti Deuce Coupe
Thunderbolt & Lightfoot Firebird
Other Volkswagen Models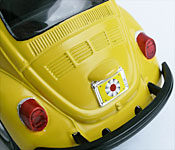 Chevron Cars Rudy Ragtop (Review)
Interstellar Pig Cabriolet
Gremlins Beetle
'98 VW Beetle
Transformers G1 Bumblebee
Field of Dreams 1973 Type 2 (Review)
Lost 1971 Bus (Review)
Alone in the Dark VW Touareg
Herbie Rides Again Herbie
Little Miss Sunshine 1978 Bus (Review)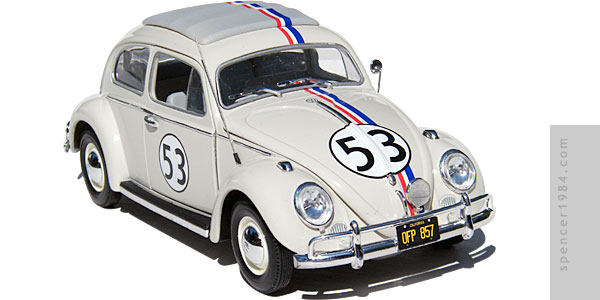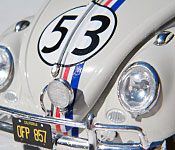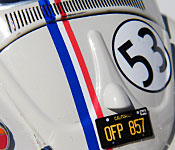 Cool Fact
The "Herbie" movies take place in the same universe as the original "Flubber" movies, with villain Alonzo Hawk appearing as the antagonist in both The Absent-Minded Professor and Herbie Rides Again.
Despite the rough assembly and relative scarcity of Fabbri's VW 1200, it remains the best starting point for a classic Herbie in 1:24 scale. Fortunately, the assemblers were a little more careful here than they were with the previous one, so at least cleanup was limited to the overzealous use of stickers holding the hinged panels closed.
As before, the interior was repainted gray and a late model radio was added to the dashboard. The mirror was once again replaced with a custom round piece, and a radio antenna was added above the right front fender. It was then reassembled and polished, and the Rides Again-specific details were added.
The first of these details was a slightly different set of stripes. Between The Love Bug (1968) and The Love Bug (1997), Herbie wore stripes with a slightly darker and thinner blue that ran his entire length. I used Hobby Design's graphics here, which fit Fabbri's Beetle almost perfectly. The only places where I had to use paint and ink to make up the difference were over the hood trim and around the rear vent. Herbie also wore stock wheels and tires for Rides Again, which came from Gunze-Sangyo's oval window Beetle (I had considered using the diecast's original wheels, but they were damaged in the package and looked a little oversized). Finally, the Carello fog light was made from bits taken out of my parts box and mounted over the front bumper.
The license plates are nearly identical to the ones from The Love Bug, but I updated the registration sticker to reflect Herbie Rides Again's 1974 release date.
Have a question, comment, or criticism about this model?
Send me an e-mail
with your thoughts!