Site Features
Getting Started in the Hobby
Model Categories
Original Kit:
Ford GT90
Made By:
AMT/Ertl (kit #8381)
Scale:
1/25

Other Batmobile Models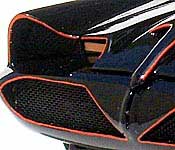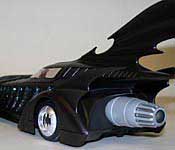 1992: Batman:TAS (Review)
1987: Batman #408 cover
1990: Legends of the Dark Knight #5
1977: Batman #288
1995: Batman Forever
1992: Batman:TAS (Review)
1992: Batman the Animated Series
2017: Justice League (Review)
1968: Detective Comics #377
2017: The LEGO Batman Movie (v2)
1944: Batman #20
2008: LEGO Batman
1950: Detective Comics #156
1970: Detective Comics #400
1966: Batman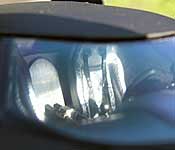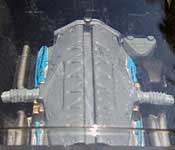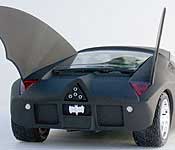 This is the first time I've managed to complete a Batmobile while the story it appears in was still in-progress. The particular story was the miniseries Man-Bat, in which Kirk Langstrom seemed to be losing control of himself. The Batmobile only appears briefly, but it's roots as a GT90 concept car were unmistakable.
I had picked up a GT90 kit when it first came out, though until I saw this Batmobile I didn't have anything particular in mind for it. I thought it could be a fun "quick build," since modifications to the car are relatively minor. The biggest challenge was cutting the top of the canopy off to form a solid roof. After carefully marking off where to make my cut, I put a strip of masking tape over the glass to protect it and started cutting. Once the top was removed, the door seams were filled in and a new drip rail was added around the edge. The fins & bat mask were cut from .040" and .020" sheet styrene (respectively), made to match the comic while flowing with the lines of the car as smoothly as possible. I also modified the mirrors to match the comic, opened the front grilles, and hollowed out the driving and reverse lights for better realism. The angular design of the GT90 is reminiscient of the F-117 stealth fighter, so I went with flat black for all of the bodywork. I liked the look of the chrome trim against the flat black, so I kept it for the grille, wheels, fuel fills, and rear bat symbol (taken from the Johnny Lightning '60s Batmobile).
The interior of the GT90 was done in a garish blue, which I updated to a series of neutrals. It was suitably high-tech for a Batmobile, so aside from modifying the steering wheel to match the comic, everything is box stock. The same went for the engine, which was detailed with paint but otherwise untouched.