Site Features
Getting Started in the Hobby
Model Categories
Original Kit:
Batman Batmobile
Made By:
Aoshima (kit #22498)
Scale:
1/32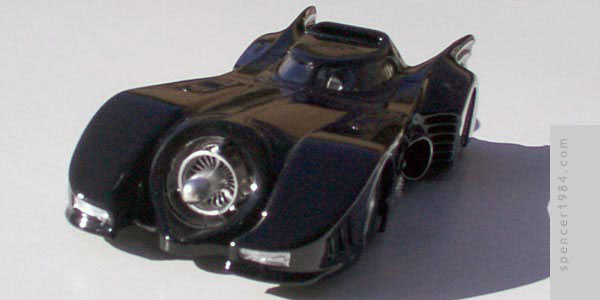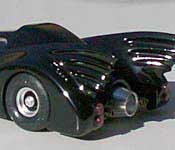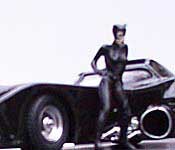 I found this a few years ago while browsing HobbyLink Japan's web site. On opening the box, I discovered that, despite it's small scale, this was an excellent kit. The details were clear and crisp, and it fit together with little effort. Features on the model include steerable front wheels, both machine guns, a separate cockpit canopy, and a place for an electric motor & batteries, so you can actually make it move! My only complaint with the kit was the dashboard: there are no gauges, instead you are supposed to use a decal to simulate the instrument cluster. This might not be so bad, except the decal was printed in light blue and yellow. Construction of the kit was pretty straightforward: I built it entirely box stock, and painted the body Testor's Gloss Black (it actually took two tries: the first coat ended up looking like a gloss black orange).
I also got a Catwoman figure to go with the finished model. She started out as the Catwoman figure from Warner Brothers' Miniature Classic Collectible series, available only from the Warner Bros. stores. Since the figures were based on the animated Batman series, many of them are cartoon-looking. A couple of them did look pretty realistic, though, mainly the ones that did not have capes or loose clothing. Since Catwoman was in Batman Returns with this particular Batmobile, and since her miniature looked pretty realistic, it seemed like a good match to me. I removed her base and whip, and repainted her to look like Michelle Pfeiffer's version of Catwoman. The hand that was holding the whip was opened and repositioned to be leaning on the fender of the car.
Have a question, comment, or criticism about this model?
Send me an e-mail
with your thoughts!