Site Features
Getting Started in the Hobby
Model Categories
Original Kit:
N/A
Made By:
N/A
Scale:
1/24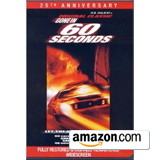 Other 1980s Movie Models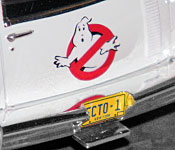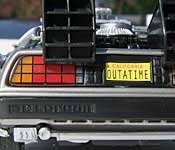 Indiana Jones and the Last Crusade Bike
The Terminator T-800 Endoskeleton
Back to the Future DeLorean
BTTF2 DeLorean (Review)
Ghostbusters 2 Ecto-1A
Star Wars Speeder Bike (Review)
Rain Man Buick Roadmaster
Smokey & the Bandit 2 Firebird T/A
Transformers Optimus Prime
Gotcha! Citroën 2CV
Gremlins VW (Review)
Who Framed Roger... Benny (Review)
Stroker Ace Thunderbird Stock Car
Transformers Hot Rod (Review)
Gone in 60 Seconds 2 Slicer
Sharky's Machine Dodge Diplomat
The Junkman 1981 Corvette
Tron Light Cycles (Review)
BTTF3 DeLorean (Review)
BTTF DeLorean (Review)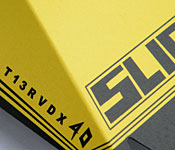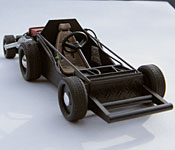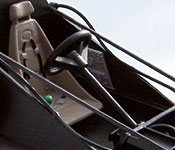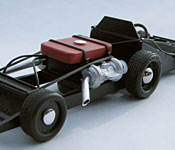 After finishing the Mark III, I started to think about other possible subjects for paper modeling. I decided that the Slicer was a good fit, as the 1:1 was all flat planes and sharp angles. I started by taking a bunch of screen grabs from Gone in 60 Seconds 2, and using them to draw up plan views of each side of the body. These were then arranged into a continuous piece of art with a seam near what would become the back right corner. The roof and forward panel were printed separately on the same sheet. Then everything was cut out, scored, and folded into the pyramid shape (this was actually my second attempt...the first was going well until I scored along the wrong axis).
Once the body was together, I scratchbuilt a chassis from styrene stock and parts box items. These include the seat, steering wheel, control panel, and brake pedal. The engines were from a pair of Hot Wheels XS-Ive trucks, with aluminum tubing exhausts routed to (approximately) line up with holes in the body. The center tires were also parts box items, while the corner tires are from a Transformers: Robots in Disguise Prowl figure. I had tried a number of different wheel options, but most were too large to fit without making the body sit too high or look freakishly unbalanced. I decided to have the control lines and steering hydraulics all go through the box under the fuel cell, so detail work was minimal.
Looking back, I may have done a few things differently, but for the most part I'm happy with the way this turned out. It's definitely a unique addition to my TV/movie car collection.