Site Features
Getting Started in the Hobby
Model Categories
Original Kit:
The Dukes of Hazzard General Lee
Made By:
AMT/Ertl (kit #8597)
Scale:
1/25

Other Charger Models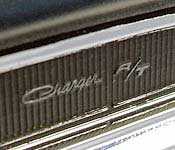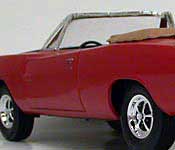 Need for Speed '69 Charger (Review)
Dirty Mary, Crazy Larry '69 Charger
"City Slicker" '69 Charger
Death Proof '69 Charger (Review)

Dukes of Hazzard Undercover General
Furious 7 '70 Charger
Agents of SHIELD Hell Charger
Joe Dirt '69 Charger Daytona
Dukes of Hazzard (movie) General Lee
Fast 5 '11 Charger Rio Police (Review)
Blade'68 Charger
Fast & Furious '70 Charger
'69 Convertible
Fast 5 '70 Charger
Furious 6 '69 Charger Daytona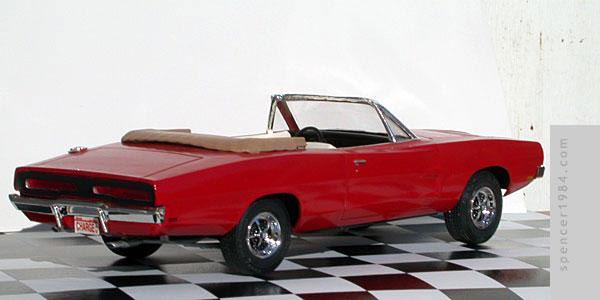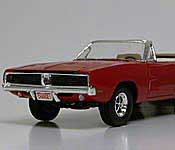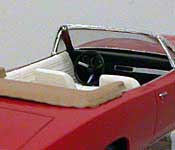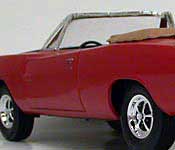 Cool Fact
Legend has it that a single factory-approved convertible was created for the designer of the 1968 Charger. Beyond that possibility, any drop-top Chargers you might see are custom pieces.
This model started out as the rather disappointing General Lee kit by AMT/Ertl. MPC originally issued the kit several years ago, and AMT/Ertl apparently decided to do nothing to correct the gross errors throughout the kit. This is especially surprising since Ertl had already produced a diecast collectible that was substantially better than MPC's offering. One of the most glaring problems was the fact that they used the wrong type of Charger to represent the car: the General Lee was a '69 Dodge Charger R/T, but when the kit was made a Charger 500 was used for reference. Instead of the recessed rear window and long C pillars, Charger 500s had a flush rear window similar to a Barracuda or Challenger.
I had started to convert the kit to the correct body style, when at about the same time Revell-Monogram released their Charger R/T, and AMT/Ertl re-released Ertl's old General Lee diecast replica. With the abundance of correct General models, my conversion project was scrapped and the model was put back on the shelf.
Some time later, I ran across a drawing of a car that looked a great deal like a '68 - '69 Charger, but as a convertible. Not only was it a nice looking automobile, it was really a pretty straightforward custom job. I removed the roof of the Charger up to the windshield frame, and back to the rear fenders. A replacement rear deck was made using sheet styrene, and the trunk lines were cut into the panel using the original trunk lines as a guide. The top boot was taken from AMT's 1962 Chevy, with very little modification work required to make it fit correctly.
The rest of the body, interior, engine, and chassis were built box stock, with the addition of carpet flocking for the floor, and a set of Mag wheels donated by Revell-Monogram's '69 Charger R/T kit. The body was painted bright red using a combination of PlastiKote red over metallic brown.
Have a question, comment, or criticism about this model?
Send me an e-mail
with your thoughts!