Site Features
Getting Started in the Hobby
Model Categories
Original Kit:
Ford Sierra XR-4i
Made By:
Tamiya (kit #24052)
Scale:
1/24

Other Misfile Models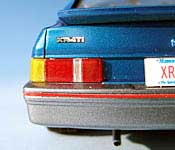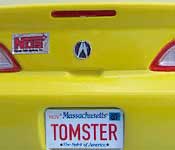 Brent's BMW M3
Kate's Jaguar XKR
Emily's Nissan 240SX
Ash's Merkur XR4Ti
Ash's XR4Ti Monster
Tom's Acura RSX-S
Other Comic & Manga Models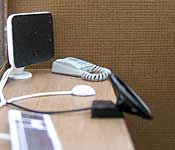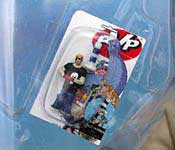 DC Bombshells Batgirl (Review)
Cyber Formula SIN Ogre AN-21 (Review)
DC Bombshells Harley Quinn (Review)
PvP Mini Cooper
Dilbert Carbicle
Garfield Beach Car (Review)
Cyber Formula Experion Z/A-8 (Review)
The Circuit Wolf Jota
Shakotan Boogie Yanky Mate! Z
Tekkonkinkreet Colt Galant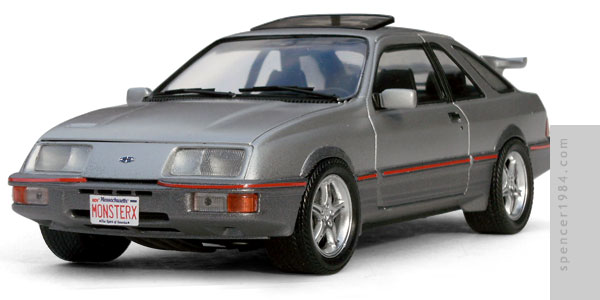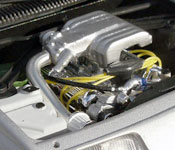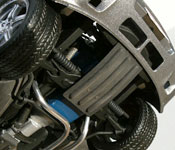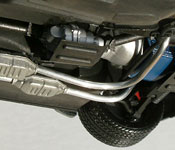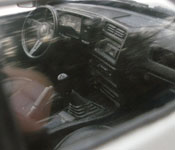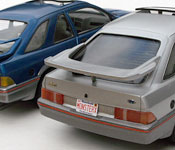 Continuing my series of Misfile builds, the Monster XR4Ti turned out to be the most involved model to date. Like the car in the comic, it is a Frankenstein monster of parts from different kits that didn't quite want to work together.
I again started with Tamiya's Ford Sierra, and used that for the bulk of the build. As before, the engine was the first thing to go. I replaced it with a 5.0L V8 from Monogram's '55 Ford F-100 Street Rod, which had a nice oversized sump and Cobra valve cover dress-up kit. The intake manifold was from a mid-1980s Mustang, and the whole thing was attached to the Sierra's transmission and a transfer case from an Aoshima Toyota. Everything was going pretty well until I tried installed the new powerplant, only to find that the oil pan hit the front axle. So out it came, and I carefully cut off the pan to re-install it with the sump towards the rear. That took care of that problem, but meant that I had to relieve a fair amount of the floor pan to clear the transfer case and forward driveshaft. Once installed, I added the radiator (with electric fan), belt assembly from the Mustang, and a scratchbuilt intake tunner and scratchbuilt dual exhausts.
In addition to the scratchbuilt exhausts, I also made custom driveshafts, added the front differential from my parts box, swapped the front struts with racing parts from Tamiya's Cosworth Sierra, added disc brakes from my parts box, and made guards for the front end and transfer case (the old road is pretty rough in spots, and the XR4Ti doesn't have a whole lot of ground clearance).
The interior was left pretty much stock, with the exception of a parts box steering wheel and racing seats. Unlike the earlier XR4Ti, I went with a simpler all-black color scheme to contrast with the silver & gray body.
Body modifications were also light this time around: I cut the hood vent and replaced the rear spoiler with the wing from the same Sierra that donated its front suspension. Otherwise, things were left as they were right out of the box. Paint is Testors Silver and Tamiya Gunmetal, with some light weathering. Cobra R wheels with parts box tires, custom badges, and custom license plates finished it off.