Site Features
Getting Started in the Hobby
Model Categories
Original Kit:
Danger Mouse Car (DM Sports Car)
Made By:
Armada Model Designs Ltd
Scale:
1/24

Other Cartoon & Anime Models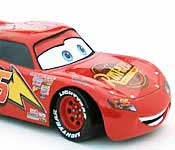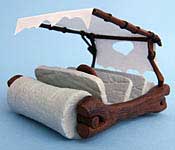 Max Steel Turbo Racer (Review)
Cars Lightning McQueen
Roadster Racers Minnie (Review)
F&F: Spy Racers Crawler (Review)
Jimmy Neutron Rocket
Betty Boop '39 Chevy Deluxe (Review)
Batman:TAS Batmobile (Review)
Batman:TAS Batmobile (Review)
1992 Batman:TAS Batmobile
Speed Racer F1 Mach 5
Other Spy Car Models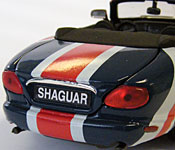 Austin Powers Shaguar
The World is not Enough BMW
Austin Powers: Goldmember Shaguar
Danger Mouse Mk III
xXx '67 Pontiac GTO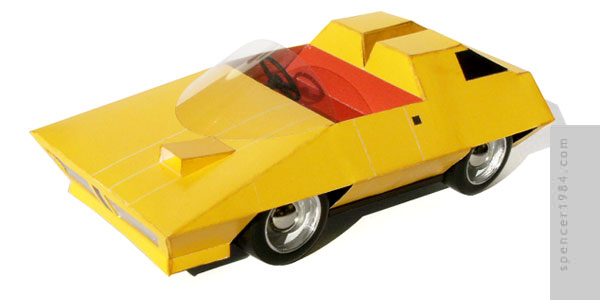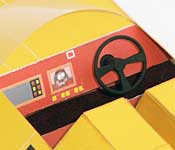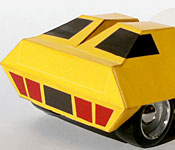 Cool Fact
Danger Mouse's trademark eyepatch is actually not needed - he wears it because it is "part of the suit".
Although this isn't technically my first attempt at a paper model, it's my first attempt at a "complete" paper model (with a full body, chassis, interior, etc.). As such, I tried to stick to the stock parts as much as possible. It was printed onto heavy card stock, trimmed with a new X-Acto, and glued together with white glue. To help reinforce some of the larger panels, I used pieces of balsa wood, taskboard, and wooden coffee stirrers.
I did veer from the original kit in a few places, the biggest change being a set of parts box tires on custom wheels made from finishing washers and furniture tacks. I also cut out the headlights and replaced them with edging from a CD case, then backed them with metal tape laid in a half pipe made from styrene tubing. The steering wheel is another parts box item, and the windscreen was made from clear plastic sheet as per the "optional" instructions that came with the kit. Finally, the taillights were made from reflective safety tape to give them the proper look.
All in all it was a fun kit, and a nice way for me to try out paper modeling. I definitely learned a lot, and have some good ideas to try the next time I attempt something like this.