Made By:
Jada Toys
Scale:
1/24
MSRP:
US$24.99
Overview:
Packaging (Design):
8/10
Packaging (Durability):
7/10
Casting (Body):
9/10
Casting (Interior):
8/10
Casting (Chassis):
8/10
Casting (Engine):
8/10
Paint (Exterior):
9/10
Paint (Interior):
N/A
Paint (Trim/Graphics):
10/10
Overall Panel Fit:
8/10
Total Score:
8.3/10

Other Street Rod & Custom Models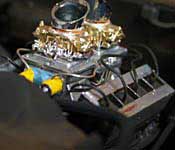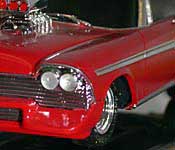 '70 Challenger (Review)
American Graffiti '32 Ford
'69 GTO "Supergoat"
'70 Barracuda (Review)
'06 Mustang (Review)
'48 Cadillac "CadZZilla"
Dream Truck (Review)
Viper
Hot for Teacher '32 Ford
Super Coupe
Other Jada 20th Anniversary Models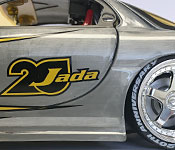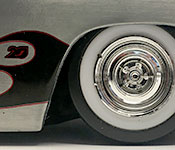 1962 Volkswagen Bus (Review)
1939 Chevy Master Deluxe (Review)
1963 Chevy Corvette Sting Ray (Review)
1969 Chevrolet Camaro (Review)
1959 Volkswagen Beetle (Review)
1951 Mercury (Review)
1993 Mazda RX-7 (Review)
1955 Chevy Stepside Tow Truck (Review)
2011 Ford SVT Raptor (Review)
2010 Chevy Tahoe (Review)
1958 Chevy Impala (Review)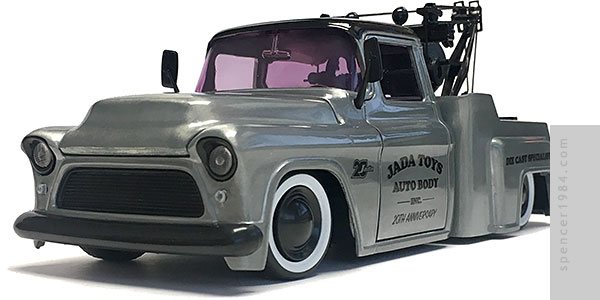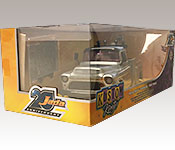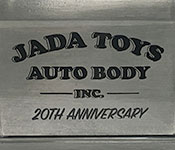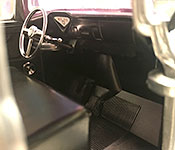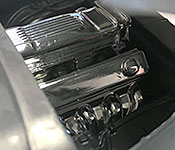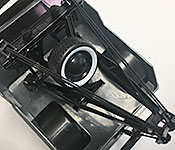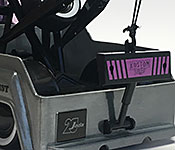 Background
The golden era of the led [sic] sled and highly customized, stylish, classic American automobiles were the inspiration for Kustom Kings which was released in 2006. Wild colors, frame dragging ride height and classic flame designs were some of the details that made Kustom Kings so unique.
Packaging
As part of Jada's 20th Anniversary packaging, the Chevy's box is nearly identical to the Impala's. The only visual changes beyond the product photo & blurb are that the purple fade now has a leopard print motif and "Kustom Kings" replaces "Street Low." Also different but not very consequential, the plastic band holding the doors closed is fed through the bottom cardboard tray rather than just around the vehicle.
Casting/Paint
The '55 tow truck is a bit of a surprise, as it's one of Jada's more restrained customs. No radical body work, outrageous wheels, or fancy paint job: just a basic Chevy truck, shaved and slammed. The cab, hood, doors, and box are separate metal pieces, cleanly cast and nicely assembled to further sell the clean utilitarian feel of the truck. The front bumper, grille, and headlight bezels are rigid black plastic, while the mirrors are a softer vinyl with chrome foil "glass." I can understand why they'd want to use a material less prone to breaking for the mirrors, but they're a little too soft: I have yet to see one where they're both pointing the right direction. This one was the best of what was on the shelves, and there's still a bit of droop. Headlights and parking lights are clear plastic, while the window glass is a soft translucent purple. As with the rest of Jada's Anniversary line, the bulk of the truck is clearcoated raw metal. The roof is black, as are the markings on the sides: a "20" logo on each front fender, "Jada Toys Auto Body Inc./20th Anniversary" on each door, and "Die Cast Specialist" on each rear fender. A "20" logo is also printed as the rear license plate. It's simple, but looks good and gets bonus points for the subtle but perfectly rendered drop shadows on the door and rear fender text.
The tow rig is a combination of metal and plastic components, either painted or cast in black. It's a generally good-looking rig, with dual winches, arms, hooks, and the appropriate bars and bracing. The cables are made from a fine elastic line, which means they really look the part. The only problem is that there's no way to keep them properly threaded through manufacturing, packing, shipping, and stocking. I had to spend a few minutes re-rigging everything so that the lines were on their respective pulleys. The hooks clip to a loop in the top of the tow bar, which has the "Kustom Kings" logo knocked out of the purple caution striped printed on it.
Under the hood is a late model big block with a Corvette-inspired fuel injection intake. The engine parts are bright chrome against a black plastic bay, and have enough detail to make everything look good. The interior is as spartan as you'd expect from a mid-fifties truck, with a plain bench seat, simple door panels, and a stock dashboard. Chrome has been used to accent the black plastic, including the steering wheel, column/shift lever, mirror, and six speakers—three in each door, Jada's sole "upgrade" to the interior. The gauge cluster is a single sticker, printed well but not perfectly centered under the dash brow. The chassis is Jada's usual flat work, with elements that are recognizable but not brilliant. It does get a bit of a bump from the twin megaphone exhaust tips hidden under the rear pan, complete with hollow tips. All five wheels (four on the truck, one on the tow rig) are simple whitewalls mounted on black steelies with baby Moon caps.
Features/Accessories
The doors and hood all open on stiff but not overly tight joints. Note that the hood swings open from the rear, so don't try to force it open from the gap over the grille. Because the tow lines are separate flexible pieces and the tow bar can be dropped, it is possible to set this up with another car to create a "towing" scene. The elastic lines aren't nearly strong enough to hold up a car, though, so it will require some creative arrangement to look appropriate.
Accuracy
This is another Jada custom that exists solely for the sake of being a custom, but the bare metal look and color tinted windows give it a nice continuity with the other cars in Jada's Anniversary series.
Overall
The rigging is really the only shortcoming on this diecast, and personally I feel the tradeoff of having to do some re-threading for such a nice looking final piece is well worth it. This is another winner in Jada's Anniversary line.
Have a question, comment, or criticism about this review?
Send me an e-mail
with your thoughts!