Site Features
Getting Started in the Hobby
Model Categories
Original Kit:
Tachikoma
Made By:
Wave (kit #WAVKK-01)
Scale:
1/24

Other Cartoon & Anime Models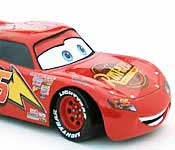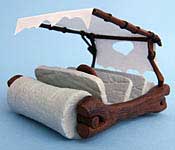 Roadster Racers Daisy (Review)
Jimmy Neutron Rocket
Vifam Twinklehead
Evangelion Renault Alpine A310
1992 Batman:TAS Batmobile
Planes Dusty Crophopper (Review)
Roadster Racers Mickey (Review)
Ghost in the Shell Motoko Kusanagi
Speed Racer F1 Mach 5
Gunsmith Cats Shelby GT500
Tekkonkinkreet Colt Galant
Speed Buggy Speedy
101 Dalmatians Cruella's Car (Review)
Betty Boop '39 Chevy Deluxe (Review)
Lupin III Fiat 500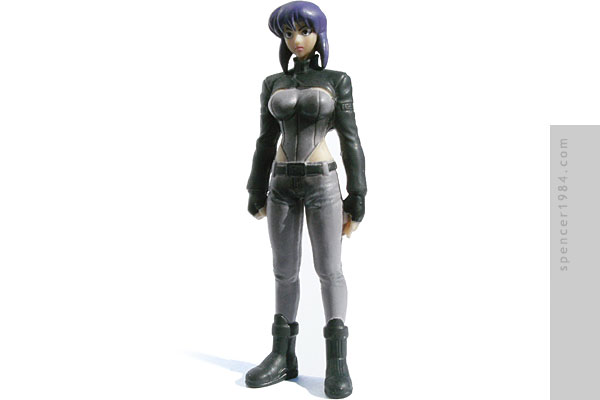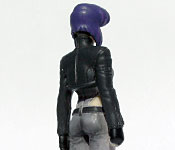 The Major here marks one of my few forays into the realm of figure painting. Even though she's probably got fewer organic parts than a T-800, her outer shell should look more "human" than some other robots I've done.
I started by masking off the flesh tones and painting the body suit with Krylon's Hyacinth, which looked like a pretty good match to the blue-gray used in the series. I then painted her belt, jacket, and boots Grimy Black, and her gloves Engine Black. Her hair was a custom color I mixed up, as were her lips. The eyes were painted in five stages: black for the outline/lashes, white, black again for the edges of the irises, red for the center of the irises, and one more black dot for the pupils.
With all the painting done, I sprayed her with a few layers of Testors Dull Cote, then used a combination of dry brushing and pastels to add definition and weathering. Some of my efforts were more successful than others, but for a first attempt I'm fairly happy with the results.