Site Features
Getting Started in the Hobby
Model Categories
Original Kit:
N/A
Made By:
N/A
Scale:
1/24

Other Comic & Manga Models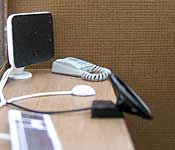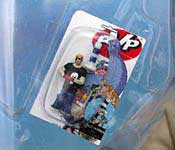 Over Rev! Toyota MR2
Tekkonkinkreet Colt Galant
Detective Comics #597 Batmobile
Cyber Formula SIN Asurada (Review)
Ctrl-Alt-Del Zeke
Teen Titans #9 Batmobile
Cyber Formula Asurada AKF-11 (Review)
Wangan Midnight Devil Z
Cyber Formula Super Asurada (Review)
PvZ Ferrari 250
Other Robot & Cyborg Models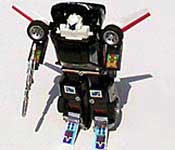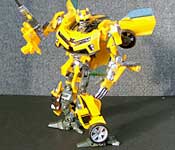 T-800 Endoskeleton
Star Wars Fighter Droid
The Day the Earth Stood Still Gort
Star Wars Napalm Droid
Ghost in the Shell Motoko Kusanagi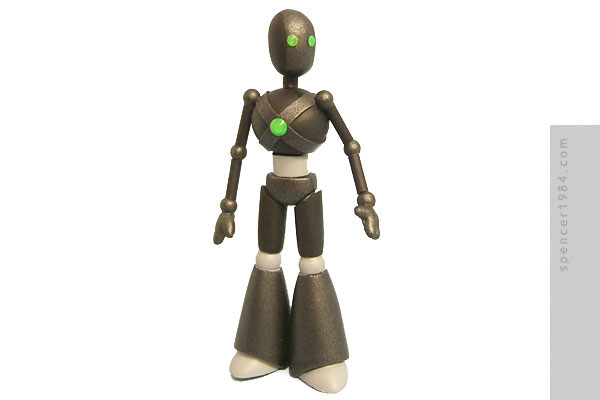 Zeke here continues my series of webcomic-based-models. I had been kicking around the idea of an X-Bot figure since he was introduced in the comic, but couldn't decide if I wanted to do him in 1/12 scale to go with my other figures, or 1/24 scale to go with the rest of my model collection. In the end, the latter won.
There aren't really any figures close enough to use as a starting point for Ezekiel, so he is almost entirely scratchbuilt. I was able to use part of the waist and lower legs from a vinyl MegaMan figure, and the hands are heavily modified from a Dale (of "Rescue Rangers" fame) figure. The head and chest are made from epoxy putty, and the abdomen, arms, and upper legs are styrene. Joints are a combination of ball bearings and jewelry beads. Finally, the eyes and XBox light were made from epoxy and painted on the back to creare a glow effect.
This was my first attempt at both working with epoxy putty and my first shot at sculpting a totally unique 3D figure based on 2D references. Overall I'm pretty happy with the results, and I got a chance to learn some new techniques that I can use for future projects.