Original Kit:
Ecto-1 Chasse
Made By:
LEGO (kit #21108)
Scale:
N/A

Other Video Game Models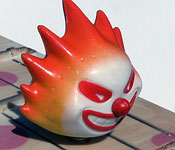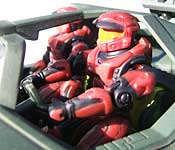 LEGO Dimensions Ecto-1
MarioKart DS B-Dasher (Review)
SpyHunter 2 Saleen S7
SpyHunter Lamborghini Diablo
HALO 4 Warthog (Review)
Real Drift Corvette Z06
Arkham Knight Batmobile (Review)
Ghostbusters: The Video Game Ecto-1B
Need for Speed Mustang GT (Review)
Lamborghini American Challenge Diablo
Mega Man 66 Action Vol. 2 (Review)
Mario Kart 8 Sports Coupe (Review)
Need for Speed '69 Charger (Review)
Half-Life 2 Muscle Car
Need for Speed Audi R8 (Review)
Fortnite Figures
Borderlands 3 Claptrap (Review)
Need for Speed Murciélago (Review)
Metallo
Star Fox 64 Arwing (Review)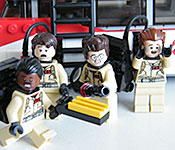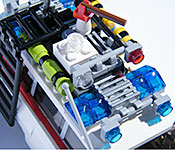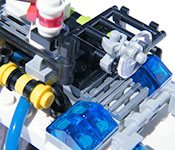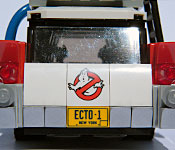 Thirty-odd years ago, the very first pop culture themed model I can remember building was a LEGO Ecto-1. It wasn't much, but I tried to squeeze as much detail as I could into it using whatever mid-1980s parts were available: quad headlights, rocket nozzle rear fenders under red fins, a thoroughly greebled roof rack, etc. I even equipped four minifigs with proton packs and built it a firehouse with an arched doorway. Nothing exists of it today save for a door or two with some poorly-drawn "no ghost" symbols on Scotch tape...but the memories of it are still there, and so when LEGO announced the release of their Ideas (formerly CUUSOO) Ectomobile I knew I had to get one.
I'm glad I did: it's an impressive set before even being built. Hinge-lid box, 104-page perfect bound instruction manual featuring production notes and photos, and 500+ pieces (several of which are exclusive to this set). Assembly was LEGO's usual detailed diagrams, and there were no confusing or difficult parts.
The four minifgs are recognizable as Ray Stantz, Egon Spengler, Peter Venkman, and Winston Zeddemore, though not necessarily Dan Aykroyd, Harold Ramis, Bill Murray, and Ernie Hudson. The caricatures are somewhere between the actors and their Real Ghostbusters counterparts. All four have alternate "scared" faces and multi-part proton packs (no specially cast pieces here, though the bottom chamber is a custom-printed piece). You also get two walkie-talkies, a ghost trap, and a 16-stud wide base with locators for all four team members and a printed piece on the front with their logo.
Neat as all this is, though, it's really just a lead-in to the main event. Once assembled, the Ecto-1 is fairly large, measuring 8¼" (21cm) long, 2¾" (7cm) wide, and 3¾" (9.5cm) tall. Smaller than the model kit, but pretty big by minifig car standards. The designers did an admirable job recreating the Caddy's peaked nose, quad bumper lights, shaped fenders, and rounded body. Even the full dish hubcaps, whitewall tires, and Flite-Fin trim are nicely recreated here. Although none of these are truly scale accurate, they're close enough that you could arguably recognize the car without the movie details - like the figures, it's a nice caricature of the automobile. Those details certainly help sell it, though. The designers managed to work in the whip antenna, spotlight, the sideview mirror, conduit tubes, ladder, and of course the roof rack. Some parts, like the corner lights, fan box, and tanks, are pretty straightforward translations of the original prop. Others, like the ecto sniffer, clear radar, and radome, have been more noticeably simplified. Finally, there are some outright strange additions, like the clear lights in place of the fan motor and siren. The overall impression, though, is definitely on-target. The only real downside is that you can't get all four figures inside the car, but you can always get the Ghostbusters level pack with its mini Ecto to allow all four members to have a ride (my own proclivity towards driverless cars makes it a non-issue, personally).
Not only was this a great model and worthwhile addition to my Ectomobile collection, seeing the work LEGO did was enough to convince me to grab the Firehouse Headquarters as well!