Site Features
Getting Started in the Hobby
Model Categories
Original Kit:
2002 Chevrolet Corvette Z06
Made By:
Maisto
Scale:
1/24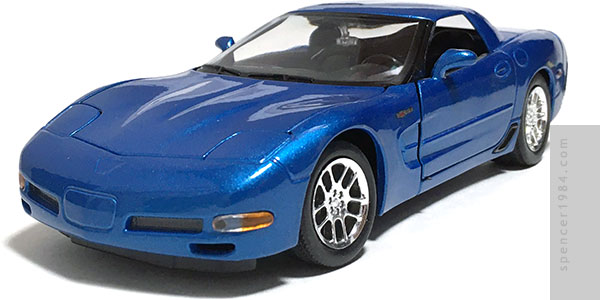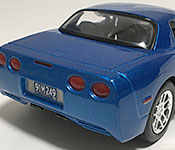 This was one of those models of convenience more than any great connection to the source material. Several years ago, I was looking to pick up a base vehicle for Rigg's truck in the last Lethal Weapon movie. The cheapest and easiest to find was a Silverado included in one of Maisto's truck & trailer combinations, sold at Walmart under the "Kid Connection/Show Stoppers Die-Cast Collection" branding. On the trailer was a blue Corvette Z06 - not bad, but nothing I needed at the time. So it just got set off to the side and more or less forgotten about for close to two decades until I was doing some cleaning and ran across it.
Curious to see if there was anything I could do with it, I checked the usual places for a pop culture Z06. An updated Transformers Tracks was the obvious choice, but my Binaltech figure was still filling that position. There were a couple of reality show/documentary-type programs, but the Corvettes in those were background vehicles at best. Nothing in the world of music videos. The manga Countach prominently featured a C5, but had a distinctive flame strip right where Maisto included Chevy's optional side molding, which meant more work than I was looking for. That left me with Video Games. Forza Motorsport had a nice looking blue Z06, but it was totally stock and one of hundreds of options - nothing really too distinctive. I have no problem repurposing unmodified diecasts to act as part of my pop culture collection, but figured I'd do a little more checking before I called it a day. That's when I ran across IGCD.net's entry for Real Drift. A blue, C5, Z06, with side moldings: it checked all the right boxes. Plus, due to what I'm guessing are the limits of the game engine, the wheels were rendered strangely. Rather than the distinct Z06 design with its inset convex spider, these had a concave design with the spokes terminating right near the edge of the wheel. It looked a whole lot like the type of wheel Dodge put on the 3rd-gen Viper, and I just happened to have a set left over from when I needed some extra parts for my 2005 Batmobile.
My course finally established, I pulled off the stock Z06 wheels. Maisto used their standard plastic axles with collared snap-on wheels, whereas Welly had metal axles front and rear. But their center hubs were large enough to fit over the Maisto axles, so I simply drilled them out and snapped them into place. The only other changes needed were removal of the Corvette badges, and painting the rear side marker lights. Total cost for this project: $0.