Original Kit:
1968 Dodge Charger
Made By:
Revell (kit #1569)
Scale:
1/25

Other Paranormal Models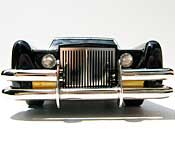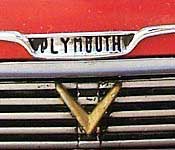 Stranger Things Chevy Blazer (Review)
Haunted Mansion Hearse (Review)
Supernatural Chevelle
Christine (Review)
Speed Demon Chevelle
Stranger Things Chevy Van
Nightmare on Elm St Cadillac
The Car
Harry Potter Anglia 105E
Ghostbusters Ecto-1
Other Charger Models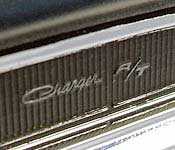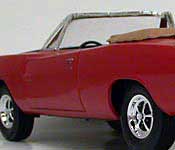 Agents of SHIELD Hell Charger
Furious 7 Maximus Charger (Review)
Death Proof '69 Charger (Review)
Joe Dirt '69 Charger Daytona
Collier & Co: Hot Pursuit Traveller
MPC "City Slicker" '69 Charger
'69 Convertible
Need for Speed '69 Charger (Review)
'67 Charger (Review)
The Philadelphia Experiment Charger
Other 1990s Movie Models

The World is not Enough BMW
The Fifth Element Flying Taxi (Review)
Tommy Boy Plymouth GTX (Review)
Tomorrow Never Dies 740iL (Review)
Dazed & Confused '72 Pickup (Review)
Blade '68 Charger
Wheels of Terror Charger
The Chase 325is
Short Time Dodge Diplomat
Terminator 2 Harley-Davidson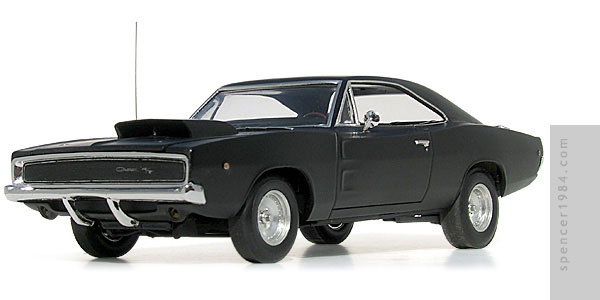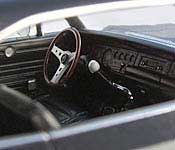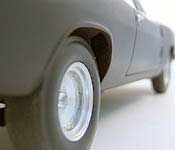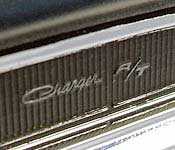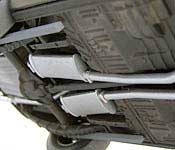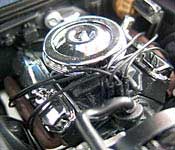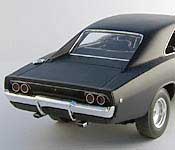 Cool Fact
The Charger was supposed to have a larger role in Blade II, but a lack of mechanics familiar with American cars and limited parts availability kept it sidelined.
Like the Bullitt Mustang, I built this as a quick "weekend project." It was sold under the "Cars are the Stars" banner, basically an easy way for Revell to produce (almost) movie-accurate cars without paying a fortune in licensing fees. The actual model is a modified reissue of the '68 Charger from the Bullitt line, with different wheels and a new hood. Unfortunately, that meant that the roof was still vinyl textured...and I can tell you now, it's not nearly as easy to remove the texture from a diecast as it was from the General Lee. Still, after some work with various sandpaper and sanding sticks, I had corrected the roof to a smooth metal panel that flowed smoothly into the rear fenders.
With that done, the body was painted flat black and clearcoated to reproduce the satin black color seen in the movie. Inside, things were detailed with paint and Bare Metal Foil, and the steering wheel was replaced with a parts box item to better match what was used in the movie. The chassis was modified to include traction masters, and the front axle recieved my usual Revell kit modification (including filling in the hole through the engine block). The engine was also wired and plumbed.
Since Blade's car lacked license plates, I had to remove them from both bumpers. This was no problem on the front bumper: a little trim work with an X-Acto and I was done. The rear plate was a bit more problematic, though...the plate would have to be carved out of the bumper depression and the bumper would then have to be rechromed. Just for the heck of it, I thought I would see how closely a bumper from a Revell plastic kit would fit before I started work. Much to my surprise, the fit was absolutely perfect. Even the mount pins were located in the same place. So, kudos to Revell for making the parts interchangable.
Overall, the kit went together pretty easily. Once together, the body was detailed with paint, BMF, and a radio antenna, while the chassis was detailed with chalks and pastels to achieve a good weathered look.