Site Features
Getting Started in the Hobby
Model Categories
Original Kit:
I Want to Believe
Made By:
Atlantis (kit #1008)
Scale:
N/A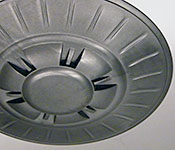 Cool Fact
The original "I Want to Believe" poster seen in The X-Files was a cropped version of Billy Meier's "Photo #494" that had been used without permission. This led to some legal trouble for the show's creators, and the poster was replaced in season 4 with a slightly different image.
"Basic" is an understatement with this kit, but by no means should that be taken to mean "bad." Atlantis actually did a very nice job with the casting, giving it enough surface detail to keep things interesting (certainly more than could be discerned from Billy Meier's photo) and making the parts fit together seamlessly. The quality was far better than many more complex kits, and the included LED flasher, base, and backdrop are fun little extras that can be used in myriad projects.
Paint was only slightly more complicated than assembly: the whole thing was shot with Model Master's Titanium buffing metalizer, then polished and weathered with graphite to give it a slightly worn look. Since #494/I Want to Believe never included legs, a base, or even a light ray to keep it aloft, I opted to drill a small hole on the underside near the edge of the craft so that a piece of stiff wire could be inserted and allow the ship to "float." Photographing it wasn't even that complicated, though: I simply set it on a piece of glass bigger than the camera's field so it wouldn't cast a shadow underneath itself.