Site Features
Getting Started in the Hobby
Model Categories
Original Kit:
N/A
Made By:
N/A
Scale:
1/24

Other Book Models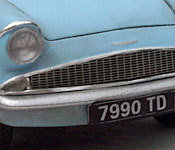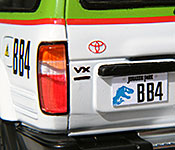 2001: A Space Odyssey Monolith
Fahrenheit 451 Salamander
Day of the Cheetah XF-15F
The Lost World Ford Explorer
Draw 50 Monsters UR2EZ
Interstellar Pig VW Convertible
The Race Forever Lancia Stratos
Shadows of the Empire Virago
Thinner Chevy Nova
Starship Troopers Powered Suit (Review)
Other Motorcycle Models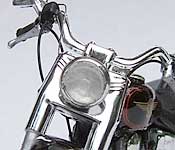 G.I. Joe RAM
Transformers: RID Sideways
The Walking Dead Chopper
Ghost Rider Stunt Bike (Review)
MOSPEADA/Robotech VR-038
Final Fantasy VII Motorcycle (Review)
Tron Light Cycles (Review)
Kamen Rider Hurricane
The LEGO Movie Cycle
Kamen Rider Cyclone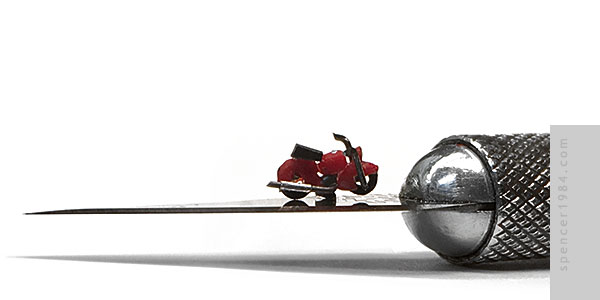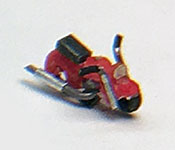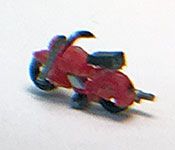 While I was making some of the small detail parts for the It's Walky! truck, it got me thinking about similar projects that I could attempt. That led me to remember a favorite book series from my childhood: Beverly Cleary's The Mouse and the Motorcycle, Runaway Ralph, and Ralph S. Mouse. What it would take to make a mouse-sized motorcycle...in 1/24 scale?
My first check was model railroading, to see if there were any Z-scale classic American motorcycles available. If there are, I couldn't find them. I briefly considered going the 3D printed route, since that worked well for my Revenge-O-Mobile, but I really wanted to see if I could do this the old-fashioned way.
After doing some basic sketches based on Louis Darling's art for the original books, I came up with a plan. The bulk of the bike is made from four hand-carved parts: front fender, rear fender, gas tank, and seat. I used red and black plastic cut from sprue trees so that I would be working with the correct colors and didn't risk gumming up the final model with too much paint. The engine is a section of floral wire, cut and oriented to look like a cylinder. The headlight, frame, and kick stand were more bits of plastic, while the exhaust pipe and handlebars were made from stiff wire. Tires were made by cutting tiny O rings and gluing the arcs to the bottoms of the fenders. Lastly, the muffler is a single thickness of aluminum tape wrapped around the exhaust.
While I was able to minimize paint applications, there were a few details where it was unavoidable. The handlebar grips, headlight, gas cap, and taillight were painted with black, white, silver, and brown. I also touched up a couple of places where the glue left some ghosting, and painted a red line along the bottom of the engine to create the frame rails.
The entire bike was constructed from about a dozen parts total, and measures just under ¼" (6mm) long.