Site Features
Getting Started in the Hobby
Model Categories
Original Kit:
1969 Plymouth GTX 440
Made By:
AMT/Ertl (kit #31930)
Scale:
1/25

Other Classic TV Models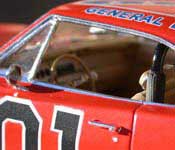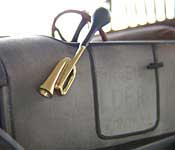 Kaiki Daisakusen Tortoise (Review)
V Laser Jeep
Batman Batmobile
Married...With Children Dodge
Birds of Prey Hummer
Beverly Hillbillies Truck
Dukes of Hazzard General Lee
V.I.P. Jaguar
Bewitched '69 Camaro (Review)
Dark Shadows Vampire Van
Dukes of Hazzard 1977 Fury (Review)
A-Team Corvette
Automan Countach
Honey West Cobra 289
Monkees Monkeemobile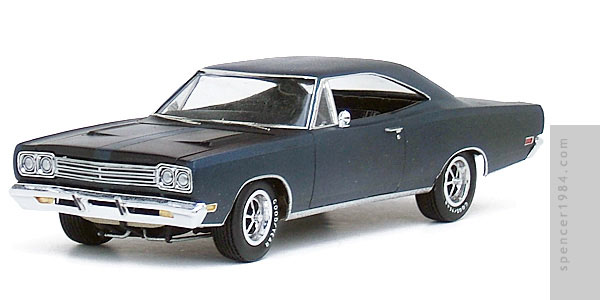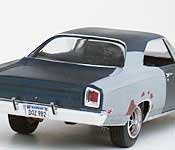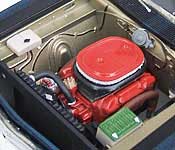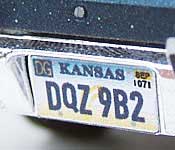 Cool Fact
Jericho was cancelled after its first season, but a large and well-organized protest by fans of the show convinced CBS to produce new episodes for a second season.
There were at least two completely different Plymouths used in the CBS series Jericho. In the first episode, the car had no fender or rocker trim, smooth bumpers, and one set of markings. After the car was recovered and "lovingly restored" by Jonah, it gained fender and rocker trim, bumperettes, and a different set of trim markings in addition to its new (or repaired) fender. I chose to build this as the latter, since that's how the car appeared most frequently during the series' run. I was also trying to get it done for a Community Build Project on the Scale Auto forums, so I decided to forgo detailing and build it more or less out of the box.
I started by removing all of the GTX and Hemi trim. I distressed the body a little, then painted it with the same Tamiya blue that I used on my Misfile Merkur. This time, however, I used a flat black base coat to get the darker blue. The right rear fender is "primed" with Rustoleum gray, and the hood stripes are flat black with a shot of Glosscote. In the episode "Black Jack," we got to see that the car was repainted blue at some point from its original gold—so everything under the skin was painted appropriately. The chassis, 440, and interior were all built box stock, with only paint detailing.
Once assembled, show-accurate trim was added. The bumperettes were scratchbuilt, and the fender and rocker trim was added with metal tape. The correct '69 Roadrunner grille was a Modelhaus item. The overall car was then weathered, and a show-accurate license plate was added to the rear bumper.