Made By:
Jada Toys
Scale:
1/24
MSRP:
US$12.99
Overview:
Packaging (Design):
7/10
Packaging (Durability):
7/10
Casting (Body):
9/10
Casting (Interior):
9/10
Casting (Chassis):
6/10
Casting (Engine):
8/10
Paint (Exterior):
9/10
Paint (Interior):
8/10
Paint (Trim/Graphics):
10/10
Overall Panel Fit:
9/10
Total Score:
8.2/10

Other Camaro Models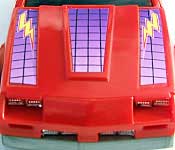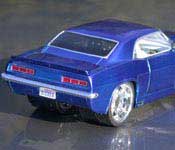 "Stylo" Camaro
'69 Camaro Pace Car (Review)
"Heavy Chevy" Camaro (Review)
'69 Camaro
KITT
M.A.S.K. Thunderhawk
Revenge of the Fallen Bumblebee
'06 Camaro Concept (Review)
Avengers 2016 Chevy Camaro (Review)
'16 Camaro (Review)
'67 Camaro (Review)
Troy PD SCCA Camaro
Avengers Grimm Camaro ZL1
Charlie's Angels '69 Camaro
Blood Drive '67 Camaro
Bewitched '69 Camaro (Review)
'85 Camaro (Review)
'71 Camaro (Review)
Furious 7 Off-Road '67 Camaro (Review)
Transformers Bumblebee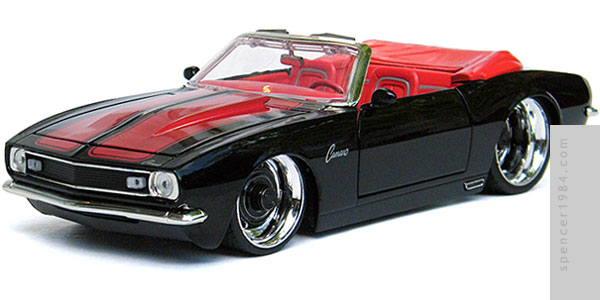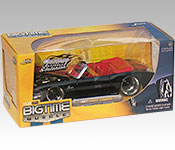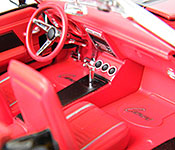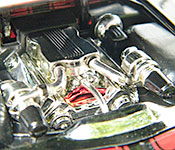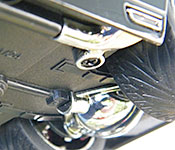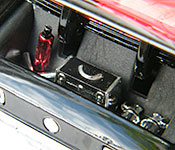 Background
After being hit by a double whammy in the introduction of the Ford Mustang and Ralph Nader's 1965 book Unsafe at Any Speed, executives at General Motors knew they needed a new 2+2 sports coupe to replace the Corvair. This led to the development of an all-new "F" platform, a conventional front engine/rear wheel drive design that was perfectly suited for a number of engine and suspension options. Dubbed "Camaro" by Chevrolet merchandising manager Bob Lund and GM VP Ed Rollett, Chevy's pony car went on sale in late 1966 for the 1967 model year.
Packaging
The Camaro is packaged in Jada's "Big Time Muscle" box. The only difference between this and other releases is the shape of the clear plastic trays holding the car in place, and the name tag on the front of the inner tray that now reads "1967 Chevy Camaro."
Casting/Paint
The designers at Jada had really hit their stride at this point, with nearly flawless casting, excellent panel fit, and an overall excellent curb appeal. The '67 Camaro is no exception, with smooth body panels, tight gaps, and high gloss paint. The metal body is detailed with plastic front and rear splash pans, vinyl sideview mirrors, and lots of trim. The bumpers, grille/headlight surround, windshield frame, and taillight bezels are all chrome plated plastic. Clear plastic is used for the headlights, parking lights, and windshield, while clear red is used for the taillights. Silver Camaro badges are printed on the nose and both front fenders, the fuel cap is painted silver, and a pair of red stripes is printed on the hood and trunk. All of the paint looks great: door sills are fully covered, the printed elements are sharp and clean, and there is no sign of dust or debris anywhere.
The interior is red with silver stripes on the seats, black door inserts and center console, silver window cranks, and detailed dash painting (including silver bezels around the black gauge faces!). The rear view mirror, shift lever, pedals, and steering wheel are cast in chrome plastic, and the wheel has extra paint apps for the horn button and rim. Most of the paint work is as brilliant as the body, but the tonneau cover has some paint chips and dust that bring the score down.
Under the hood is a twin turbo V8. It's cast in chrome plastic with multiple paint apps, and while it's fairly shallow the designers did a brilliant job of plumbing it to look far more detailed than it really is - very smart work here. The trunk is also filled with details, an unusual move for Jada. Included here is a fuel cell, nitrous bottles, a fire extinguisher, and an X wrench (all in chrome, the extinguisher painted red). The chassis is Jada's usual simplified pan and chrome differential, but they've also added a set of chrome exhaust tips that feed through holes in the rockers - a very cool touch.
Features/Accessories
The hood, doors, and trunk all open on smooth hinges that hold their positions easily.
Accuracy
Jada's "Big Time Muscle" series was at its best when it was doing artistic interpretations of classic American iron. The Camaro is a perfect example of this: both immediately recognizable but all of the details have been exaggerated. It's wider, lower, and rides on 28" Ralleye wheels...but you still immediately recognize the Coke-bottle fenders, quad taillights, and center dash instrument cluster. The few omissions, like the cowl vents, seem less like oversight and more like intentional design choices. Overall scale is about 1/23.
Overall
As I've noted elsewhere, I can enjoy inexact replicas as long as they're artfully done. That's just what Jada has here: it won't hold up to even passive scrutiny if you want for a true 1/24 scale replica of the first year Camaro, but it captures the essence of speed and power while exhibiting some excellent manufacturing work. Very highly recommended.
Have a question, comment, or criticism about this review?
Send me an e-mail
with your thoughts!