Made By:
Jada
Scale:
1/24
MSRP:
US$19.95
Overview:
Packaging (Design):
9/10
Packaging (Durability):
9/10
Casting (Body):
9/10
Casting (Interior):
N/A
Casting (Chassis):
8/10
Casting (Engine):
8/10
Paint (Exterior):
9/10
Paint (Interior):
N/A
Paint (Trim/Graphics):
8/10
Overall Panel Fit:
10/10
Total Score:
8.8/10

Other Pixar Models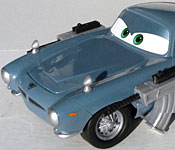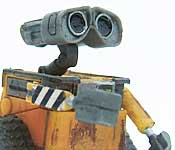 Cars 3 Cruz Ramirez
WALL·E
Cars 2 Francesco Bernoulli (Review)
Cars Doc Hudson (Review)
Cars 2 Raoul ÇaRoule (Review)
Incredibles Incredibile (Review)
Cars Lightning McQueen
Cars 3 Jackson Storm (Review)
Cars Lightning McQueen (Review)
Cars 2 Shu Todoroki (Review)
Cars 2 Finn McMissile (Review)
Cars 3 Lightning McQueen (Review)
Cars 2 Lightning McQueen (Review)
Cars Mack (Review)
Other Cartoon & Anime Models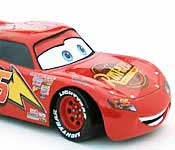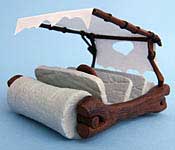 Spiral Zone Monocycle
Cars Mack (Review)
Batman:TAS Batmobile (Review)
Zootopia Police Cruiser (Review)
Vifam Twinklehead
Betty Boop '39 Chevy Deluxe (Review)
M.A.S.K. Thunderhawk
WALL·E
1992 Batman:TAS Batmobile
Ghost in the Shell Motoko Kusanagi
Max Steel Jet Racer (Review)
The Real Ghostbusters Ecto-1
Rugrats Movie Reptar Wagon (Review)
M.A.S.K. Manta
Steven Universe Van
Who Framed Roger... Benny (Review)
Speed Racer F1 Mach 5
Max Steel Turbo Racer (Review)
Cyber Formula SIN Ogre AN-21 (Review)
Ben 10 Alien Force Kevin's Car (Review)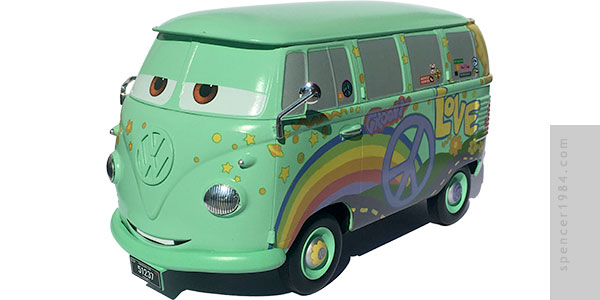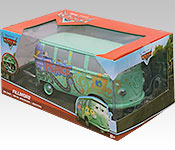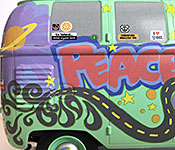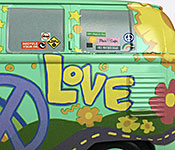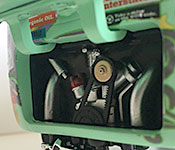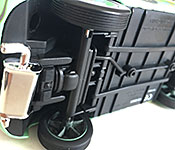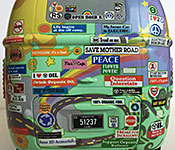 Background
One of George Carlin's earliest characters was Al Sleet, the Hippie-Dippie Weatherman. When Carlin was cast in Cars, Al's voice was a perfect fit for organic fuel-loving peacenik Fillmore. When Carlin passed in 2008, vocal duties went to Lloyd Sherr, who was able to carry on duties as the groovy love van admirably.
Packaging
Fillmore's box is essentially a smaller version of what we saw with Mack. The same panel/window arrangement, the same placement of the art and logos, etc. The only difference is that because it's so much shorter top to bottom, the left edge of the front panel is no longer a continuous window that wraps around to the end flap. Instead, the upper triangle with the Cars logo has been extended down and now includes a feature callout showcasing Fillmore's opening engine cover. Inside, Fillmore is captured between two plastic trays and held to the base with two screws. So far, Fillmore is the only Cars character to be facing the right of the box.
Casting/Paint
The bulk of Fillmore is created from two diecast "shell" pieces, split at the beltline. His engine cover is also metal, while his front bumper and wheels are plastic. Details are basic but correct for the Type 2 Microbus: the raised character line forming the van's nose, the engine vents, the window surrounds, and the panel breaks are all sharp and clearly defined. These are all painted a matching flat light green, and both casting and paint are generally smooth and even (even more critical than usual with the simple "box" design). Fillmore's extensive deco is done via a what appears to be a decal-like wrap. The detail work is fantastic, capturing all of the unique bumper stickers like "Drink Oganic Oil," "Portland concrete on my mind," "Save 2D Animation," "Question Interstate," "Got Solar," "I ♥ 2 ♻," and dozens more. Placement is mostly good, though the rearmost windows on each side are not quite centered and there is some chipping where the deco meets a panel edge. Still, the overall look is very good and Jada is to be commended for tackling such a difficult design so well.
The headlights, mirror/stalk, and muffler are chrome plated plastic, and the tires are softer vinyl. The chassis is a basic pan with some frame detailing, all of which is correct for the VW. The engine is mostly a cast relief with some painting, though it does have a separate drive belt. The paint isn't great here, but you really have to get down under the open cover to see it.
Features/Accessories
The only feature is Fillmore's opening engine cover, which works well but caution should be exercised to not damage the decorations while opening or closing it.
Accuracy
Fillmore has one of the most intricate paint schemes of the Cars universe, and it would have been easy to get things "close enough." But Jada has continued their recent winning streak here, with a replica that not only captures the myriad bumper stickers and complex paint scheme, but Fillmore's chill demeanor and the correct VW underpinnings as well. Subtle details like the bent mirror bracket and hanging muffler are captured just as nicely. Comparing this to a 360° CGI, it looks like all of the bumper stickers are correct, though some may be a few scale inches off from where they should be. The only missing detail is the unpainted taillights, and the chrome muffler was a fairly rusty piece in the movies. Going by the dimensions of an actual Type II, Fillmore is 1/23 scale and thus on par with previous Cars characters.
Overall
Another great release in Jada's Cars lineup, and quite honestly a character I never expected to see in 1/24(ish) scale. Very highly recommended.
Have a question, comment, or criticism about this review?
Send me an e-mail
with your thoughts!