Original Kit:
Cruz Ramirez
Made By:
Revell (kit #45-1501)
Scale:
N/A

Other Pixar Models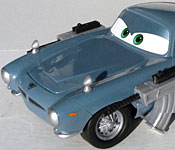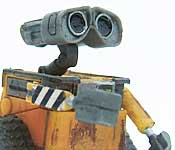 Cars Lightning McQueen (Review)
WALL·E
Cars 3 Jackson Storm (Review)
Incredibles Incredibile (Review)
Cars 2 Francesco Bernoulli (Review)
Cars 2 Lightning McQueen (Review)
Cars Doc Hudson (Review)
Cars Lightning McQueen
Cars 2 Shu Todoroki (Review)
Cars 2 Raoul ÇaRoule (Review)
Other Cartoon & Anime Models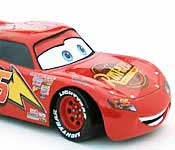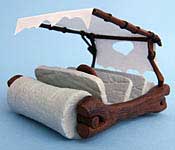 Freedom Project Tricycle (Review)
Vifam Twinklehead
Urashiman Magna Beetle
Cyber Formula Super Asurada (Review)
M.A.S.K. Thunderhawk
Danger Mouse Mk III
Batman:TAS Batmobile (Review)
Lupin III Mercedes-Benz SSK (Review)
Cars 3 Cruz Ramirez
Speed Buggy Speedy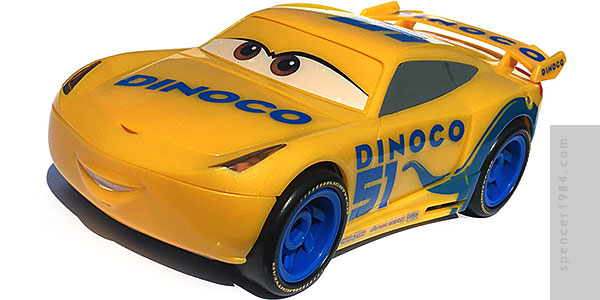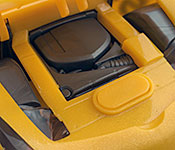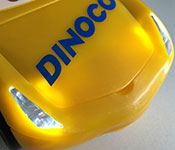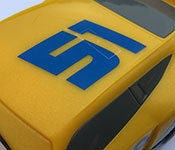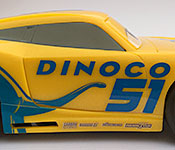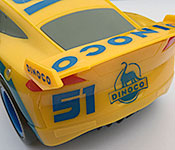 With my Cars collection including diecasts, modified diecasts, toys, and R/C vehicles, it seems long overdue to have a model kit to add to the group.
Revell's "Junior" kits are even simpler than their Build & Play kits, with assembly taking about 10-15 minutes from sealed box to finished model (not counting the stickers). Everything needed for assembly is in the kit, including batteries and the screwdriver, and the instructions follow the current LEGO style of having parts callouts and limited assembly at each step. The box lists 21 parts plus hardware.
Once assembled, Cruz comes with stickers for her eyes and most of her racing markings (the dinosaurs, fuel fill and lights are prepainted). These look far better than I expected, being made of thin material and having the edges cut close to the print to make them look as slick and "painted on" as possible. This does work against the finished look with the eyes, as the material is so thin it allows Cruz's bright yellow to bleed through the white print, if only slightly. I did take an X-Acto to trim along the panel breaks of the doors and roof laps, and across the rear 51 to allow it to sit flatter on the compound curves of the rear fascia, but they really look fine without the extra effort. The yellow plastic is a nice goldflake yellow, thick enough to prevent translucency under normal lighting conditions.
The front bumper and windshield can be swapped to give her different expressions, and while the windshield fits perfectly there are a couple of small gaps along the front fascia. Pressing down on her hood (or opening it and pressing down on the air cleaner) activates the light and sound gimmick. The headlights are bright enough to shine through the plastic and the sound chip is really loud, but it doesn't stay activated for long enough for either to become annoying. A compartment on Cruz's chassis holds the screwdriver securely, meaning the only thing you'll have to keep track of is whichever front bumper you don't currently have installed. A small Philips screwdriver is needed to change the batteries in the sound/light unit.
She fits nicely with previously-released 1/24 Cars characters, with only the wheels looking really out of place. They're very nearly the same size as what came with Jada's Jackson Storm, though, and so the alternate wheels that came with him may find their way to Cruz. Otherwise it's a good piece that is a nice addition to the Cars lineup and speaks well for Revell's Junior kits.
Have a question, comment, or criticism about this model?
Send me an e-mail
with your thoughts!