Original Kit:
1960s Batmobile
Made By:
Corgi (#77501)
Scale:
1/24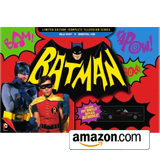 Other Batmobile Models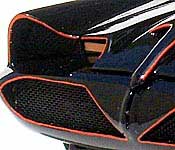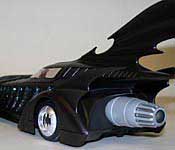 1970: Detective Comics #400
1992: Batman:TAS (Review)
1992: Batman Returns Batmissile
1989: Batman
2017: The LEGO Batman Movie (Ultimate)
1939: Detective Comics #27
2006: Legends of the Dark Knight #198
1950: Detective Comics #156
2004: Teen Titans #9
1968: Detective Comics #377
1990: Legends of the Dark Knight #5
1944: Batman #25
1952: Batman #73
2008: LEGO Batman
1964: Batman #164
Other Comic & Manga Models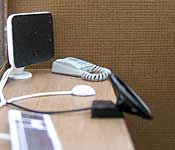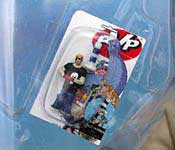 Detective Comics #400 Batmobile
Legends of the Dark Knight #5 Batmobile
Cyber Formula SIN Ogre AN-21 (Review)
Cyber Formula Experion Z/A-8 (Review)
Lupin III Mercedes-Benz SSK (Review)
Cyber Formula Super Asurada (Review)
The Circuit Wolf Jota
Batman #20 Batmobile
Detective Comics #156 Batmobile
Cyber Formula Fire Superion (Review)
Other Corvette Models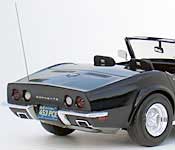 The Dead Pool R/C Corvette
Judge Parker Corvette
Corvette Fighter Craft
'05 Indy Pace Car (Review)
Rush Hour Corvette
'98 Corvette
Transformers 5 Crosshairs (Review)
'70 Comic Book Batmobile
'06 Indy Pace Car (Review)
'64 Comic Book Batmobile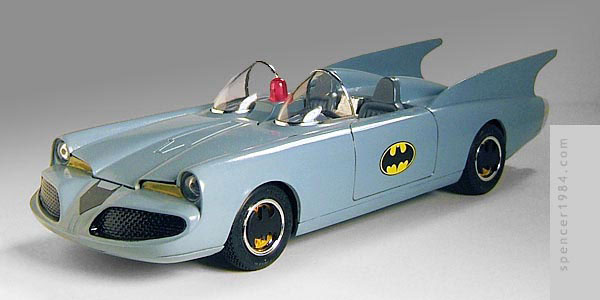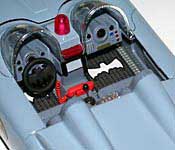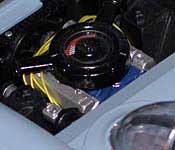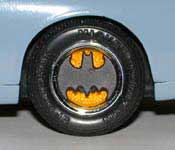 Cool Fact
The light blue Batmobile was used for Hallmark's first Batmobile Keepsake Ornament, produced in 1995. Their next Batmobile ornament didn't appear until 2003, when they made the 1990s version.
First, Johnny Lightning released their 1960s Batmobile diecast replica. Then The Danbury Mint released their own version, which was more of a cross between the TV and comic book versions of the car. Finally, Corgi released their own version of the car, which was took elements from both Johnny Lightning and the Danbury Mint. Unfortunately, despite their years of experience with the Batman license, and despite the quality of their 1/43 and 1/18 offerings, their 1/24 Batmobile left a lot to be desired. After getting it home and doing a side-by-side comparison of the three diecast cars, this one went off to the workshop for a complete rebuild.
I wanted this version to be different from either of the other two, so I decided to redo it as the light blue Batmobile variant. I started by disassembling the car and stripping all of the metal parts. I then had to do a little body work, since both fins came out of the box bent. I also added a filler piece to the rear deck, creating a more traditional "trunk" shape. With the body fully prepped, it was painted a light blue by DupliColor.
The seats, dash, and door panels were painted Denim Blue, while the floor was painted steel and received a set of custom-made floor mats. Gauges were made and printed from the computer, the various dash details were painted, and a telephone cord was installed to finish the detail work. Engine detail was lacking a bit, so I painted the main block Ford engine blue and added plug wires, hoses, and a brake line. Chassis detail was impossible, since a large 3D relief of Batman took up the underside of the car.
To finish the model, I added a set of custom logos to the doors, nose, and trunk. The clunky wheels & tires provided by Corgi were tossed in favor of a set of parts box tires on custom wheel assemblies. For these, I painted the center section of a set of spoked BBS wheels, and added painted bat-logo hubs from Art Asylum's C3 Mini Batmobile.
Have a question, comment, or criticism about this model?
Send me an e-mail
with your thoughts!