Original Kit:
'77 Jeep CJ-7 Renegade
Made By:
Revell-Monogram (kit #85-2966)
Scale:
1/24

Other Jeep Models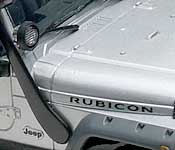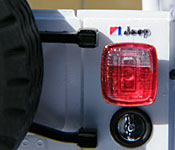 Kelly's Heroes MB
The Dirty Dozen MB
Inglorious Bastards MB
Tomb Raider Rubicon
Dukes of Hazzard Dixie
V Laser Jeep
M.A.S.K. Gator
Transformers Hound
Other Classic TV Models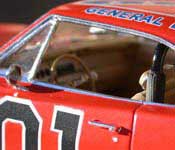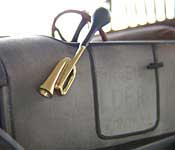 Dukes of Hazzard 1977 Fury (Review)
Highway Patrol Buick
Kaiki Daisakusen Tortoise (Review)
V.I.P. Jaguar
Supercar
Bewitched '69 Camaro (Review)
Batman Batmobile
Miami Vice Ferrari 365GTS/4 Daytona
A-Team Van
Beverly Hillbillies Truck
A-Team Corvette
Honey West Cobra 289
Blue S.W.A.T. Striker EX (Review)
Speed Racer F1 Mach 5
The Munsters Koach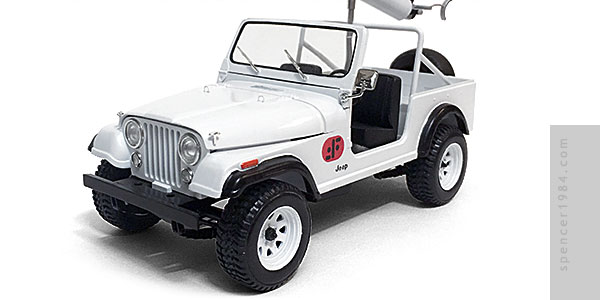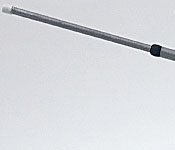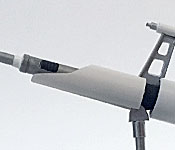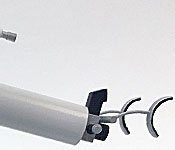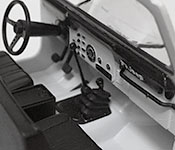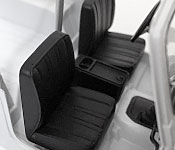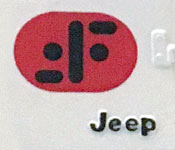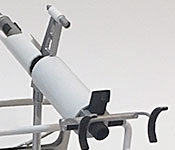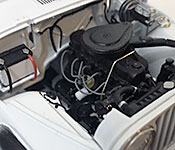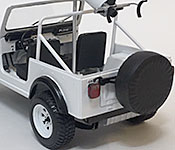 After building Daisy's Jeep as a straight box stock a few years ago, I was better prepared to take on this kit as a starting point for the laser-wielding rides used by the Visitors in the original V TV series. As before, I started by cleaning up the chassis and body of all flash, fixing any incorrect moldings, and lightening some of the heavier components like the fore and aft spring shackles. That was as close to "box stock" as I got this time, though. I wanted to make this a current model year for the show (1984), which meant that several of the details had to be updated to match the then-current CJ-7.
My first major modification was the engine. The V8 had stopped being offered as an option in the early 80s, so I used the 258 I6 that was in the spare Pacer I used for parts in my Wayne's World build. It fit surprisingly well after I swapped transmissions, with only a little nudge of the radiator needed to get clearance for the longer block. This received basic wiring and plumbing, plus a new snorkel for the air intake.
While the chassis itself was stock, I added spacers inside the wheels to create the wider track CJ-7s were using since '82. The wheels are straight out of the box, but are combined with tires from a diecast car to give them a wider look and more road-friendly tread. Since I only had four of them, the spare tire was swapped with the covered spare from Revell's GMC snow plow kit. The size was just about right, and since it didn't have any markings it was perfect for the optional tire cover offered by Jeep.
I only made one small modification to the body, and that was moving the rear corner markers from the fenders to the sides of the taillight housings. Everything was then painted Tamiya Pure White with black trim and custom symbols I drew up and printed as waterslide decals.
1984 was the last year for low-backed seats, but the pattern was nothing like the old one. To create the newer look, I sanded the kit seat flat, then carved the correct pattern into it and added a bead around the edge made from .010" plastic. It took a couple of tries, but once I had a suitable master I made two resin copies. The center console is a piece I drew up and had 3D printed at Shapeways. Other details that needed to be made, like the resaped roll bar and passenger's grab handle, were scratch built.
The laser cannon is entirely scratch built from aluminum and styrene tubes, sheet, and rod stock, and is mounted on an aluminum rod which allows it to rotate freely. I owe a huge thanks to Mike, a member of the Visitor Fleet, for helping me out with measurements and supplies needed to make this happen. His help is what allowed me to get this as close as I did, though I did have to vary from his build a little because of what materials I had on hand and my (relative lack of) familiarity with the subject matter.