Site Features
Getting Started in the Hobby
Model Categories
Original Kit:
1971 Ford Mustang Sportsroof
Made By:
MotorMax
Scale:
1/24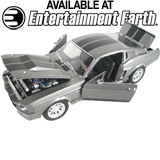 Other Mustang Models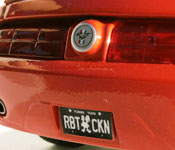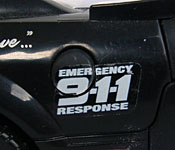 "Boss Hoss" Mustang (Review)
Need for Speed Mustang GT (Review)
Diamonds are Forever '71 Mustang
Transformers Barricade
'06 Mustang 3 (Review)
'96 Boss Shindoa
'06 Mustang 2 (Review)
GT Coupe Concept (Review)
Gone in 60 Seconds (2000) Eleanor
I Am Legend Shelby GT-500
Other 1970s Movie Models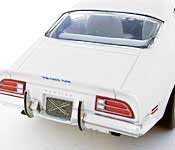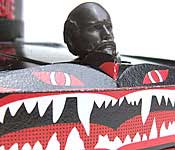 Smokey & the Bandit Firebird T/A
Hooper Firebird
Gone in 60 Seconds Eleanor Mustang
Mad Max V8 Interceptor (Review)
Star Wars X-Wing
The Car Kustom Lincoln
The Spy Who Loved Me Lotus
Good Guys Wear Black Porsche
Thunderbolt & Lightfoot Firebird
Star Wars C-3PO & R2-D2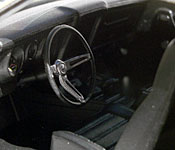 Eleanor had been on my "want to build" list for several years, but models of the '73 Mustang fastback are essentially nonexistent (the choices being limited to AMT's race-only "Macho Mustang" and Jada's slammed Mach 1). Knowing that I was going to have to do some custom work no matter which path I chose, I opted to do he same thing H.B. Halicki did when he made Gone in 60: I started with a '71 Mustang and partially updated it to look like a '73. I decided to use MotorMax's '71 Sportsroof as a base. It had the correct "flat" hood, and the correct wheels were an easy swap.
I stripped the body and repainted it with ScaleFinishes 6E Medium Bright Yellow. This was my first time using ScaleFinishes' paints, and I was very happy with how well they went on - I'll definitely be using more of their colors in the future. Once that was dry, I painted the hood, fascias, and rockers, then added the pinstripes using Detail Master's 1/64" tape.
The grille was made by removing everything but the chrome surround, then making a new grille out of mesh. I used a center emblem from a damaged Mustang diecast I found at a local thrift store, and fabricated '73-style lights to complete the look. I also added a set of mirrors from Modelhaus, hood pins from my parts box, scratchbuilt mud flaps, and replaced the original tires with a set of Good Years I had on hand. I also corrected the stance by moving the rear wheels out about three scale inches. Lastly, I added a set of screen-accurate license plates.
Everything else is essentially as it came from MotorMax, with only minor paint and BMF upgrades.