Site Features
Getting Started in the Hobby
Model Categories
Original Kit:
AW11 Toyota MR2 (Over Rev! Shino Ryoko ver.)
Made By:
Fujimi (kit #18568)
Scale:
1/24

Other Comic & Manga Models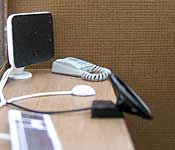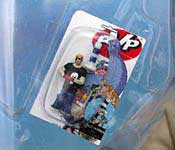 Detective Comics #400 Batmobile
Garfield Parade Car (Review)
Cyber Formula Super Asurada (Review)
Teen Titans #9 Batmobile
Jigoro Jigorou Toyota Celica
Batman #20 Batmobile
PvP Mini Cooper
Cyber Formula SIN Asurada Aero (Review)
Transformers: Armada Hot Shot
G.I. Joe RAM
Murciélago Lamborghini Roadster
PvZ Ferrari 250
The Circuit Wolf Lotus Europa
Over Rev! Toyota MR2
Batman #408 Batmobile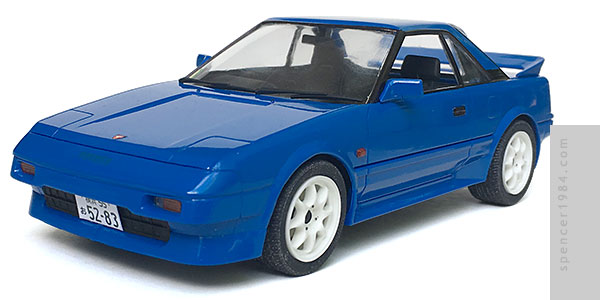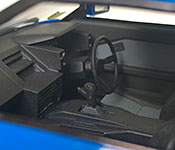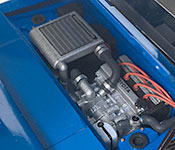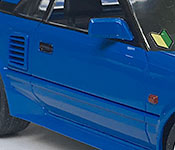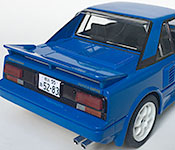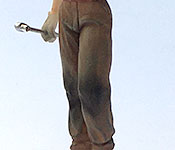 I missed getting one of these kits back when they were first released in mid-2002, and had instead picked up a later release of Fujimi's AW11 and some aftermarket wheels to make Ryoko's ride. I wanted to build Sawako's car to go with it, but I wasn't having much luck finding all the right parts...until I came across a complete original release. And right next to it was an also-complete, also-original Ryoko MR2. I had all the parts I needed already, so was it worth buying another kit just for the box art and figure? As it turns out: yes. Yes it was.
After so much work and time tracking this down, I didn't want to alter it too much from box stock (otherwise I might as well have stuck with the later kit). The biggest change I made was to cut the engine cover loose, since it was originally cast as part of the rear deck despite the fairly decent engine detail. I also opened the supercharger intake scoop and added mesh behind the opening, installed some basic engine wiring and plumbing, made new tailpipes, and added floor mats to cover the wonky floorboards. The rear drum brakes were supplied as part of the kit, but the front brakes had to be sourced from my parts box.
Paint was pretty straightforward. I started the interior with a coat of Krylon primer for the gray panels, then painted everything else flat black. The chassis and suspension was also painted flat black, with various metallic colors for the engine and exhaust. The body was shot with Tamiya TS-44 Brilliant Blue sprayed directly over the cleaned-up plastic, then trimmed with black markers and the kit-supplied decals.
Ryoko was assembled and cleaned of parting seams, then painted with a combination of Apple Barrel and AK Interactive paints. Since she was dressed in her "mechanic" uniform and carrying a wrench, I added some dirt and grease stains to make it look like she'd been spending some time working on the MR2. The open-ended wrench she carried was a bit malformed and seemed like a pretty basic tool, so I cut it off and replaced it with a scratch built torque wrench.