Original Kit:
Plymouth 'Cuda
Made By:
AMT (kit #6785)
Scale:
1/25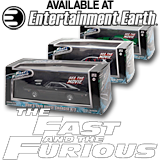 Other Fast & Furious Models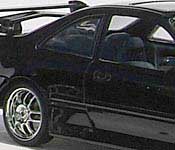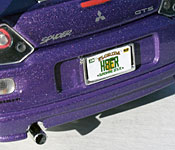 Furious 6 '69 Mustang (Review)
Furious 6 '69 Charger Daytona
The Fast & the Furious '70 Charger
Furious 7 '70 Charger
Furious 7 Maximus Charger (Review)
2 Fast, 2 Furious Eclipse Spyder
Fast 5 '11 Charger Police (Set)
Fast 5 '11 Charger Police (Review)
Fast 5 Nissan GT-R (R35)
Furious 7 '70 Road Runner (Review)
Furious 7 Toyota Supra
2 Fast, 2 Furious Evo VIII (Review)
Fast & Furious Chevelle (Review)
Fast & Furious '70 Charger
F8 of the Furious Plymouth GTX
Other 2010s Movie Models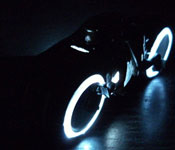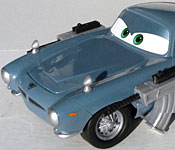 The LEGO Movie Cycle
Star Wars Rey's Speeder (Review)
LEGO Batman Batmobile
Tron Legacy Sam's Light Cycle
Need for Speed Mustang GT (Review)
Furious 7 '72 'Cuda
Furious 7 Nissan GT-R (Review)
Piranha 3D Crown Victoria
Planes Dusty Crophopper (Review)
Furious 7 '70 Charger (Review)
Transformers 5 Hot Rod (Review)
Furious 7 Maximus Charger (Review)
Cars 3 Lightning McQueen (Review)
Big Hero 6 Baymax (Review)
Born 2 Race Subaru Impreza WRX STi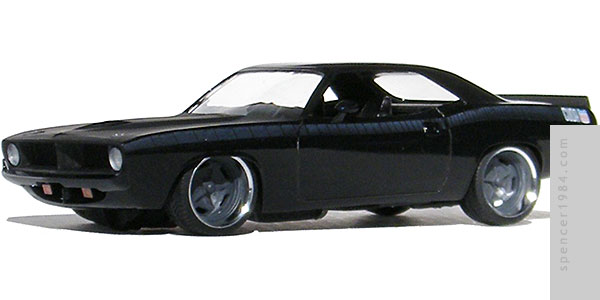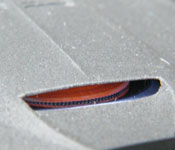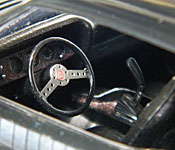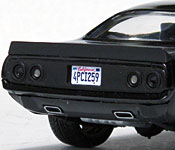 Not the finest kit in AMT's stable by any stretch, but options for the '72 - '74 'Cuda are somewhat limited. Plus, building something simple without sweating the details was going to be a nice break from some of my recent projects. With the kit in-hand, I purchased an AAR conversion from Southern Motorsport Hobbies, decals from Firebird Designs, and went to work.
I started by removing the stock hood, and adding strip styrene to the edges of the opening to match the size of the resin AAR hood. The hood required a little cleanup, and some slight rebending to fit the opening correctly. I also recessed the rear license plate by cutting a rectangle in the rear fascia and backing it with sheet styrene, and added mirrors from Revell's Daytona Spyder. Both bumpers were pretty rough, so I replaced them with the alternates from Revell's '70 'Cuda kit. The rear bumper had to be narrowed, but otherwise they fit nicely. Finally, I drilled out the poor headlights and made tunnels out of resized styrene tubing with clear lenses from my parts.
Once the modifications were done, I painted everything gloss black and applied the decals. Even though they were made for the '70, they only needed a little trimming around the door handles to fit this body. Unfortunately, I caused myself two problems here: first, I sprayed a coat of Tamiya Smoke over everything to mute the stripes a little, and ended up creating an unintentional gradient effect. Then, in an effort to reduce my heavy-handedness, I went overboard on the polishing and ended up chipping the top layer of the decals in several places which had to then be touched up with paint and ink. It's still not great, but I learned my lesson. I then painted the hood, tops of the rear fenders, front and rear fascias, and rear spoiler flat black. The new hood's scoop was large enough to see that there was no engine, but adding one to this kit was going to be more trouble than it was worth. Instead, I printed a photograph of an AAR 'Cuda's engine, and glued that under the hood. Thanks to the extremely limited viewing window, the effect is actually pretty good. The final touches were a set of paper driving lights left over from my A-Team van and a screen-accurate rear license plate.
The interior is mostly stock. I replaced the shift lever with a pistol-grip from Revell's Challenger, and the crude steering wheel with a photoetched piece. Everything else was straight out of the box, painted semi-gloss black with woodgrain and silver painted accents. The chassis is also essentially stock, with minor paint detailing and an elongated hole for the front axle to correct the ride height. The wheels are from Revell's "California Wheels" '57 Chevy, painted dark gray and widened with sleeves and tires from Aoshima.