Original Kit:
Hot Wheels Corvette Z06 Coupe
Made By:
Revell (kit #85-1942)
Scale:
1/25

Other Comic & Manga Models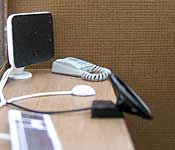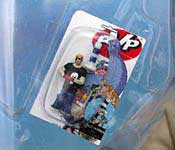 DC Bombshells Batgirl (Review)
Batman: Man-Bat Batmobile
Shakotan Boogie Yanky Mate! Z
Ctrl-Alt-Del Zeke
PvZ Ferrari 250
Batman #408 Batmobile
Transformers G1 Prowl
DC Bombshells Wonder Woman (Review)
The Circuit Wolf Lotus Europa
Detective Comics #156 Batmobile
Cyber Formula Asurada AKF-11 (Review)
DC Bombshells Harley Quinn (Review)
Cyber Formula Fire Superion (Review)
Batman #164 Batmobile
Batman #20 Batmobile
Other Corvette Models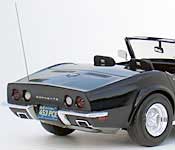 Agents of SHIELD 1962 Corvette
Stingray 1965 Corvette
A-Team Corvette
Rush Hour Corvette
The Dead Pool R/C Corvette
Matchbox '83 Corvette
Transformers G1 Road Rage
'06 Corvette 1 (Review)
Judge Parker Corvette
'06 Corvette 2 (Review)
Chuck Norris Karate Kommandos
The Junkman 1981 Corvette
Transformers 5 Crosshairs (Review)
'70 Comic Book Batmobile
Corvette Fighter Craft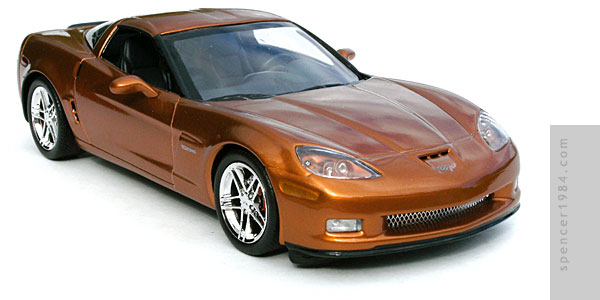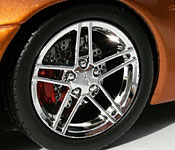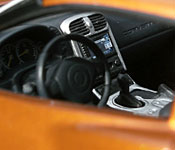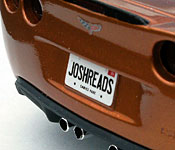 Truth be told, the only time I read Judge Parker is when it appears on the pages of Josh Fruhlinger's The Comics Curmudgeon. But after having not visited his site for a while, my return visit happened to be the same day that included a splash panel featuring Parker's Z06. So while this model technically reflects a single comic strip, it was built more as an homage to the Curmudgeon's work.
It also provided me with a good excuse to build the current Corvette in one of my favorite colors, Atomic Orange. I never cared much for the classic Ontario Orange, but the updated color looks really cool. So after a trip to the hobby store to pick up a Snap-Tite Vette and a trip to the Chevrolet dealer for a can of touch-up paint, I was ready for a quick weekend project.
Alas, that was not to be the case. The model was progressing nicely right up to when I shot the color coat. Apparently my preparations were not sufficient, and the hot automotive paint wreaked havoc on the styrene body. So I was left with a finished interior, nearly complete chassis, and a cracked and wrinkled body. I wasn't sure if it could be saved or not, but I was willing to give it a try.
It needed several baths in stripper interspersed with periods of sanding, scraping, and washing. The damage also meant that it needed a few spots of body filler, but careful sanding was able to minimize this. In the end, it took over a year of soaking and elbow grease to get the Corvette body back to presentable condition. It seems like a lot of work for what was supposed to be a quick build of an obscure reference, but sometimes that's just how the hobby goes.
Once it was ready for round 2, I took a few extra precautions with the base coat and re-shot the color coat. It worked out much better this time. Once that was dry, I painted the rest of the body details, and shot it with several coats of Future to give it a nice shine.
Other than the supreme amount of effort needed to repair the body, the work done here was pretty straightforward. The only modifications I made were adding brake calipers, opening up the grille, and adding the vanity plate (the Curmudgeon's URL). Everything else was built straight from the box.