Made By:
Jada Toys
Scale:
1/24
MSRP:
US$24.99
Overview:
Packaging (Design):
8/10
Packaging (Durability):
7/10
Casting (Body):
10/10
Casting (Interior):
8/10
Casting (Chassis):
8/10
Casting (Engine):
9/10
Paint (Exterior):
9/10
Paint (Interior):
N/A
Paint (Trim/Graphics):
9/10
Overall Panel Fit:
8/10
Total Score:
8.4/10

Other Volkswagen Models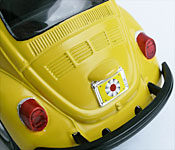 Herbie Rides Again Herbie
Ninja Cheerleaders Beetle Cabriolet
Lost 1971 Bus (Review)
The Love Bug Herbie
Transformers G1 Bumblebee
Field of Dreams 1973 Type 2 (Review)
The Cars that Ate Paris Beetle
Gremlins Beetle
Alone in the Dark VW Touareg
Transformers G1 Ladybug
Other Jada 20th Anniversary Models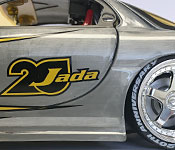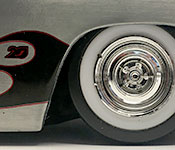 2010 Chevy Tahoe (Review)
1963 Chevy Corvette Sting Ray (Review)
1962 Volkswagen Bus (Review)
1969 Chevrolet Camaro (Review)
1955 Chevy Stepside Tow Truck (Review)
1939 Chevy Master Deluxe (Review)
2011 Ford SVT Raptor (Review)
1958 Chevy Impala (Review)
1993 Mazda RX-7 (Review)
1951 Mercury (Review)
1959 Volkswagen Beetle (Review)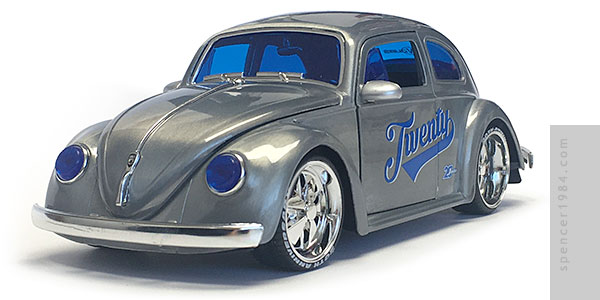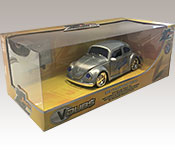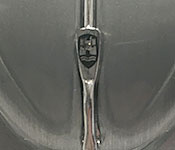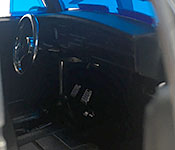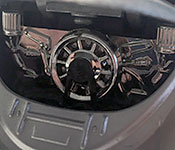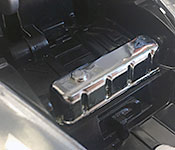 Background
Volkswagen has a strong following and an eclectic line of vehicles from the Beetle to the Thing. Beach and surf culture embraced the VW brand and the result were [sic] some rad customs the Jada captured in the V-Dubs line, released in 2006.
Packaging
The usual Jada's 20th Anniversary line, this time with the right end of the box sporting a monochrome beach photo with palm trees, water, and a surfboard. "V-DUB$" is in the usual series slot near the bottom left corner of the front window.
Casting/Paint
I've previously noted how no mass-produced Beetle can avoid parting seams on the fenders, and while that's still true here Jada gets about as close to perfect as possible. The only way that you can see the parting seams is if you watch the reflection on the glossy surface and happen to catch a slight distortion as the light moves across it. They'd earn a perfect score for casting with that alone, but fortunately the rest of the body is just as good. The main body, hood, trunk, and doors are all metal, with a brushed finish covered in a high gloss clear. The mirror housings are hard plastic, painted a matching silver. All of the rest of the details are done in chrome (bumpers, light bezels, hood trim, mirror inserts, license plate bracket, and windshield frame) or transparent blue plastic (headlights and window glass). Paint is kept fairly simple as well: the Wolfsburg crest on the hood done in black, "Twenty" and the 20 logo done in blue and white on both side, "V-DUB$" in white on the rear window and as a red and black bumper sticker on the engine cover, and the taillights done in red. A
Inside is a basic but clean black plastic casting with a custom chrome steering wheel and chrome pedals. It has a nicely detailed dashboard with a white printed speedometer face, separate shift and brake handles, and appropriately detailed door panels. Up front there's a nicely detailed trunk area with a separate chrome gas tank, and in the back is a chrome version of the VW air cooled flat 4 with a separate black plastic drive belt. Nice work at both ends, with some sharp detailing and features that will be recognizable to any VW fan. The chassis is Jada's usual flat plate, but once again that is appropriate for the car. it does have a separate chrome exhaust system, and the tires are extremely low profile with "20th Anniversary" printed in white on the sidewalls. They're mounted on chrome five-spoke wheels over silver disc brakes with red calipers.
Features/Accessories
The doors, trunk lid, and engine cover all open and close on nice, smooth functioning hinges.
Accuracy
This is another Jada custom that exists solely for the sake of being a custom, but the bare metal look and color tinted windows give it a nice continuity with the other cars in Jada's Anniversary line.
Overall
The simple and familiar nature of the Beetle makes it easy to overlook just how nice this is. Jada did an excellent job with the casting and paint and beautifully integrated it with their 20th Anniversary line.
Have a question, comment, or criticism about this review?
Send me an e-mail
with your thoughts!