Site Features
Getting Started in the Hobby
Model Categories
Original Kit:
Lancia Stratos Turbo
Made By:
Tamiya (kit #24003)
Scale:
1/24

Other Book Models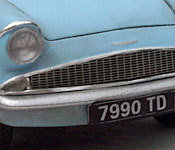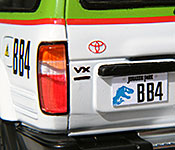 State of Fear Ferrari 365GTS/4 Daytona
2001: A Space Odyssey Monolith
The Mouse and the Motorcycle Bike
Fahrenheit 451 Salamander
The Lost World Ford Explorer
1959 Chevy Impala Rocket Sled
Day of the Cheetah XF-15F
Interstellar Pig VW Convertible
Thinner Chevy Nova
Draw 50 Monsters UR2EZ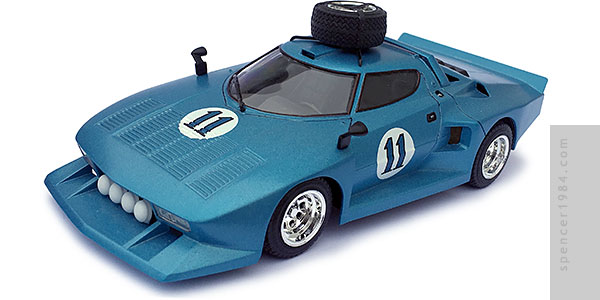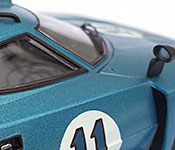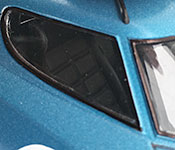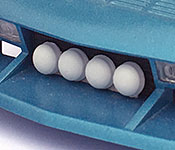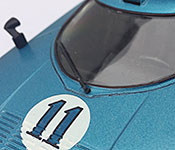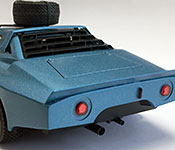 R.A. Montgomery's The Race Forever was first published in 1983, with its fantastic cover illustrated by Ralph Reese. It fit perfectly in my personal Venn diagram between early book nerd and burgeoning gearhead, and also happened to enter my world right around the same time another Lancia Stratos grabbed my attention. In short, it was ticking all the right boxes before I even cracked the cover. The 2005 reissue of the book replaced the Stratos with an Audi TT, but the original version is what stuck with me all these years and what prompted this model build.
Having already built Tamiya's Stratos Turbo once before, I knew it was a nicely detailed kit that fit together flawlessly. The biggest modification it needed was a new rear spoiler, which I made by cutting an angled groove in the body and inserting a strip of thin plastic sheet. Other than that, prepping the body was simply a matter of removing the old spoiler mounts and cleaning up the few casting seams. The tire rack was scratch built from .040" styrene rod, and the driving lights were assembled from wiggle eyes.
Inside, I skipped the kit-supplied seat for a pair from my parts box so I could have a matching pair for the driver and navigator/mechanic. I also had to come up with five road-appropriate tires and wheels, which meant the kit-supplied slicks were out. The tires came from a Bburago Ferrari, and were mounted on wheels from my parts box. The rear axle was fitted with spacers to replace the gears in the original motorized kit, but otherwise everything went together smoothly.
I decided to paint it Nassau Blue to match the cover art, with black and chrome trim and custom roundels I drew up in Illustrator. The final detail was the spare tire strap, which was made by cutting strips of black gaffer's tape and lining them up with the legs of my custom roof rack.