Made By:
Jada Toys
Scale:
1/24
MSRP:
US$24.99
Overview:
Packaging (Design):
8/10
Packaging (Durability):
7/10
Casting (Body):
8/10
Casting (Interior):
8/10
Casting (Chassis):
7/10
Casting (Engine):
8/10
Paint (Exterior):
9/10
Paint (Interior):
N/A
Paint (Trim/Graphics):
10/10
Overall Panel Fit:
10/10
Total Score:
8.3/10

Other Street Rod & Custom Models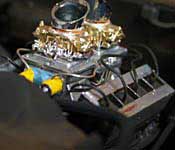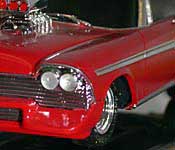 '70 Barracuda (Review)
'69 GTO "Supergoat"
'48 Cadillac "CadZZilla"
Hot for Teacher '32 Ford
Dream Truck (Review)
Deuce of Spades '32 Ford
'70 Challenger (Review)
'06 Corvette (Review)
Street Fury
Super Coupe
Other Jada 20th Anniversary Models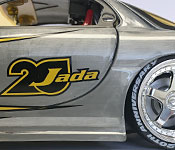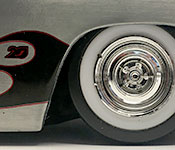 1958 Chevy Impala (Review)
2010 Chevy Tahoe (Review)
1963 Chevy Corvette Sting Ray (Review)
2011 Ford SVT Raptor (Review)
1962 Volkswagen Bus (Review)
1969 Chevrolet Camaro (Review)
1955 Chevy Stepside Tow Truck (Review)
1939 Chevy Master Deluxe (Review)
1951 Mercury (Review)
1959 Volkswagen Beetle (Review)
1993 Mazda RX-7 (Review)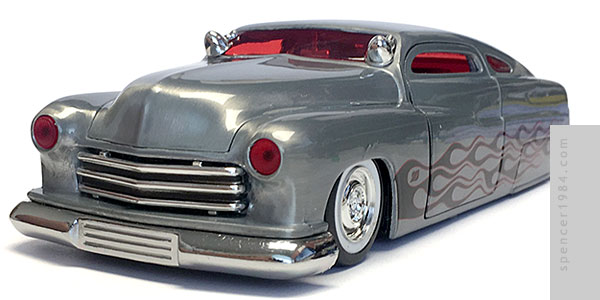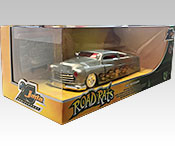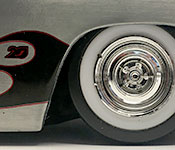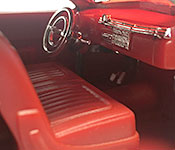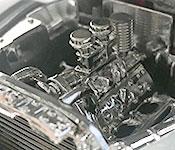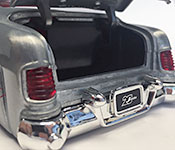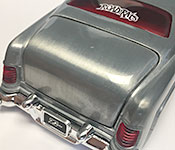 NOTE: This is a modified reissue of an existing model, and this review will focus on the changes made between the cars. You can see the original review for more details.
Background
40's, 50's and 60's rat rod customs by Jada Toys hit the shelves in 2000 and went by the name Road Rats. This gritty, high-style American custom hot rod line was influenced by Rockabilly, Punk Rock, and Rock-N-Roll cultures.
Packaging
As part of Jada's 20th Anniversary packaging, the Merc's box is nearly identical to the Impala's. The purple fade has been changed to green, "Road Rats" replaces "Street Low," and the photo on the front is a dark Mercury (not the same one that's in the box, though).
Casting/Paint
As noted in the review of Harley's Mercury, the extreme top chop and slammed stance make this car look practically monolithic. Having bright chrome for the bumpers, grille, spotlights, and wheels lightens things up a bit, but the raw metal color creates a unified base color across the model, retaining that cool heft from the "bomber" release. All of the clear plastic is red tinted this time around, which ties in nicely with the red pinstriping around the black flames dancing down the side of the car. A small "20" is just behind each front wheel, and a white "Road Rats" adorn the rear window. All of the graphics are top notch, perfectly aligned and sharply printed.
The interior is red plastic with chrome accents for the dashboard, pedals, mirror, and steering wheel/column. All other parts for the engine, trunk, and chassis are exactly as they were on Harley's ride.
Features/Accessories
This release keeps all of the same features as the previous, plus the mosaic tile we saw in the Impala. As with the outer box, the series title and date have been updated to "Road Rats" and 2000, respectively.
Accuracy
This is another Jada custom that exists solely for the sake of being a custom, but the bare metal look and color tinted windows give it a nice continuity with the other cars in Jada's Anniversary series.
Overall
Harley's Mercury was one of my favorites in the DC Bombshells line, and this does nothing to dampen my enthusiasm. The raw look fits the Merc, and the execution is excellent from both artistic and technical standpoints.
Have a question, comment, or criticism about this review?
Send me an e-mail
with your thoughts!