Made By:
Jada Toys
Scale:
1/24
MSRP:
US$24.99
Overview:
Packaging (Design):
8/10
Packaging (Durability):
7/10
Casting (Body):
8/10
Casting (Interior):
8/10
Casting (Chassis):
7/10
Casting (Engine):
9/10
Paint (Exterior):
10/10
Paint (Interior):
N/A
Paint (Trim/Graphics):
10/10
Overall Panel Fit:
9/10
Total Score:
8.4/10

Other Cartoon & Anime Models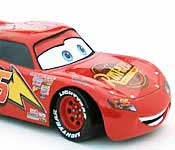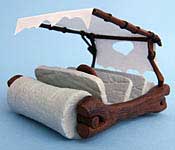 Betty Boop '39 Chevy Deluxe (Review)
Danger Mouse Mk III
Vifam Twinklehead
Speed Buggy Speedy
Roadster Racers Donald (Review)
Battle Force 5 Saber (Review)
Cars 3 Lightning McQueen (Review)
Chop Socky Chooks Cars (Review)
Cars Lightning McQueen
Planes 2 Firefighter Dusty (Review)
Other Jada 20th Anniversary Models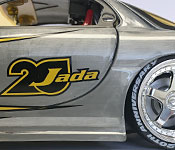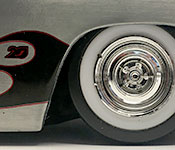 1959 Volkswagen Beetle (Review)
1939 Chevy Master Deluxe (Review)
1958 Chevy Impala (Review)
1962 Volkswagen Bus (Review)
1969 Chevrolet Camaro (Review)
2011 Ford SVT Raptor (Review)
2010 Chevy Tahoe (Review)
1993 Mazda RX-7 (Review)
1963 Chevy Corvette Sting Ray (Review)
1951 Mercury (Review)
1955 Chevy Stepside Tow Truck (Review)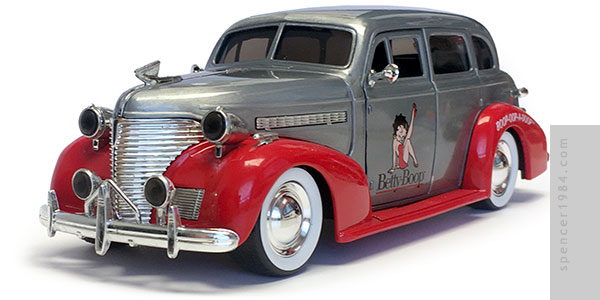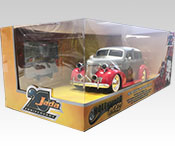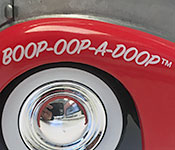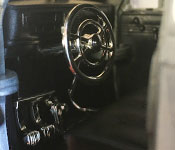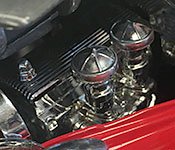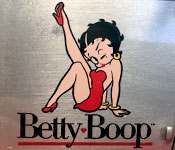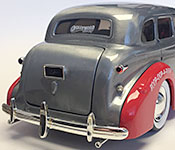 NOTE: This is a modified reissue of an existing model, and this review will focus on the changes made between the cars. You can see the original review for more details.
Background
Introduced in 2016, Hollywood Rides captures the essence of Hollywood's most iconic vehicles and delivers them as die-cast collectibles with the iconic Jada style. From authentic movie vehicles to inspired-by executions, Jada delivers fan favorite franchises across pop culture. For the 20th anniversary, Jada re-imagines its very first licensed property: Betty Boop!
Packaging
Betty Boop's Chevy is now in the standard 20th Anniversary line box, with the right end now sporting a black and white portrait of Betty blowing red kisses against a red polka dot background. "Hollywood Rides" is in the usual location near the bottom left corner of the front window, opposite the portrait and Betty's name.
Casting/Paint
Back when I reviewed the standard release of this car, I noted that it suffered from several assembly errors such as misaligned headlights and a broken shift lever. While the headlight is still a bit off, it's less obvious here and no parts are broken suggesting a little more care was taken here. The only mistake I can find on this one is that the sprue gates weren't completely removed from the left side hood vent - a criticism so insignificant that it should relay just how good a job they did here. The clear parts are now a dark smoke tint, which looks great for the windows but loses a little bit on the headlights and driving lamps.
The paint has also been stepped up, with none of the dust or orange peel that I saw in the black version. The gloss black is now a clearcoated raw metal, and the candy red is now a straight gloss red. The only change to the graphics is that the "Betty Boop" text on each door has been swapped from white to black, but the portrait looks much better against the silver since her hair and outlines no longer disappear into the paint.
Features/Accessories
The front doors, trunk lid, and hood all open on nice, smooth-functioning hinges.
Accuracy
As with the original release this is a character car rather than a replica, modified to sport the bare metal look and tinted windows of Jada's Anniversary line.
Overall
I liked the earlier Betty Boop Chevy, but it was underwhelming in many of its details. This one improves upon those and then some, looking great by itself, as part of the Anniversary line, or parked next to the black version so that Betty can have her choice for road trips.
Have a question, comment, or criticism about this review?
Send me an e-mail
with your thoughts!