Site Features
Getting Started in the Hobby
Model Categories
Original Kit:
Volkswagen Beetle
Made By:
Maisto
Scale:
1/24
Transformers.com
ReproLabels.com
Seibertron.com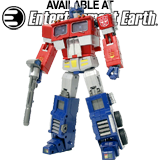 Other Transformers Models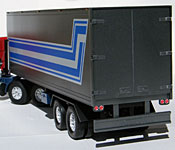 Generation 1 Optimus Prime
Generation 1 Hot Rod (Review)
Generation 2 Optimus Prime
Machine Wars Prowl
Robots in Disguise Side Burn
Armada Hot Shot
Energon Hot Shot
Cybertron Cannonball
2007 Movie Bumblebee
Revenge of the Fallen Bumblebee
Dark of the Moon Roadbuster
Prime Bumblebee
LEGO Optimus Prime
G1 Spychangers
Vector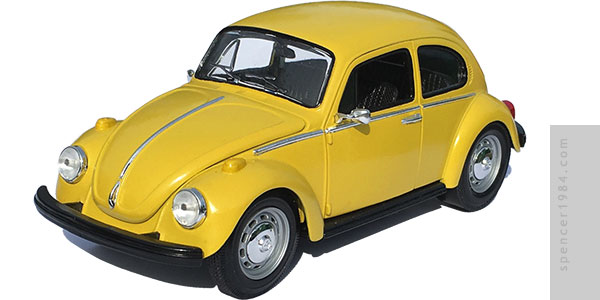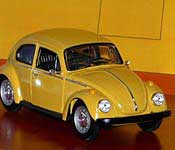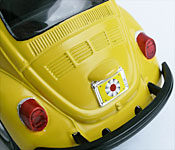 With nearly all of the regular G1 cars finished, it was only a matter of time before I started building the minicars. Part of the holdup was due to aesthetic considerations: most of the minicars lacked the realistic designs of their larger teammates, tending more towards the "superdeformed" look. Before I started, I had to decide whether to make them accurate to their cartoon & toy prototypes (sacrificing realism), or accurate to real vehicles of the era (sacrificing accuracy). In the end, the "robots in disguise" aspect won out, and I decided they had to blend in with other cars as much as possible. Bumblebee here was the first minicar I finished, primarily because VW Beetles are relatively easy to come by.
This particular VW was a Maisto diecast car, and really only requred a repaint and some minor modifications. This involved removing the mud flaps, and cutting the license plate bracket off of the front bumper. The latter did require some resculpting to make the bumper look correct, but otherwise this was a pretty simple job. I also replaced the rear tires with a set of racing slicks to give it the "Superbeetle" look of the Penny Racer Bumblebee was based on. Krylon Yellow, Bare Metal Foil, and paint details finished things quite nicely.
Have a question, comment, or criticism about this model?
Send me an e-mail
with your thoughts!