Original Kit:
Personal Hovercraft
Made By:
RMC
Scale:
1/24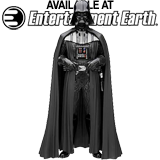 Other Star Wars Models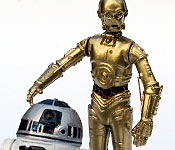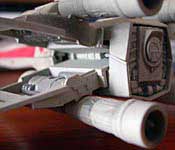 Trade Federation "Napalm Droid"
Droid Starfighter
Rey's Speeder (Review)
Speeder Bike (Review)
Prince Xixor's Virago
Eta-2 Light Interceptor
X-Wing Starfighter
C-3PO & R2-D2
PvP Dexter Jettster
Luke's Landspeeder
Other 1970s Movie Models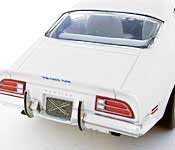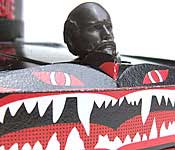 The Man with the Golden Gun AMC Hornet
The Cars that Ate Paris VW
Gone in 60 Seconds Eleanor Mustang
Herbie Rides Again Herbie
American Graffiti Deuce Coupe
Good Guys Wear Black Porsche
Hooper Firebird
Animal House Deathmobile
Mad Max V8 Interceptor (Review)
Star Wars Luke's Landspeeder
Smokey & the Bandit Firebird T/A
Star Wars C-3PO & R2-D2
Kelly's Heroes Jeep
Dirty Mary, Crazy Larry '69 Charger
Jaws Blazer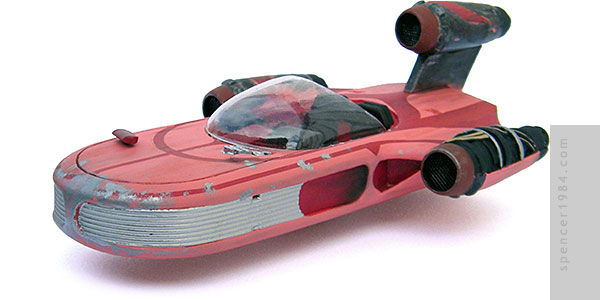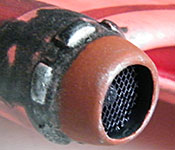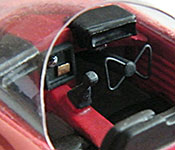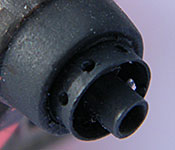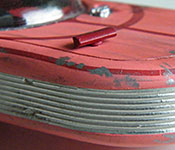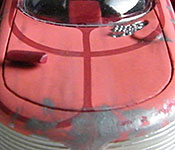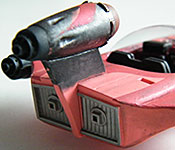 I got this a few years ago, but was finally spurred to build it with the lead-up to The Force Awakens and related availability of 1/24 scale Star Wars merchandise. The kit was pretty simple: the main body, four engines (three fully enclosed, one missing its cowling), three engine exhausts, two vac-formed windscreens, the dashboard, the throttle lever, the display/control panel, the center engine strut, and whatever the thing is that sticks out of the forward deck (sensor? we'll call it a sensor). Mine was missing one of the engine exhausts and the lever, but was otherwise complete.
Not knowing RMC's methods, I decided to play it safe by starting with a good soak in Wesley's Bleche-Wite to remove any possible mold release residue. I then sanded off any rough spots and parting seams, recut the hood panel line, and attached the engines to the main body. This assembly was painted Krylon Sunrise, which looked like a near-perfect match to the pinkish/beige of Luke's Landspeeder. The side coves, dashboard, interior, and sensor were then painted Testor's Dark Red, and the side grilles were done in matte aluminum BMF.
Rather than try to recast or build a match for the missing engine exhaust, I opted to scratch build all three - that way I was able to make them have the proper wall thickness and drilled vent holes. The throttle lever was even easier to replace, since it happened to be the same size and shape as the shift lever that was provided in MPC's C4 Corvette kit. I scratch built the control yoke and intake screens, neither of which were provided by RMC.
Part of the reason it took me so long to get started on this build was trying to decide how best to do the complex stripes. Recent trials with body-wrapping decals convinced me to give the idea a shot here, so with a scan from Star Wars: The Essential Guide to Vehicles & Vessels and some trial and error, I was able to work up a set of graphics that fit the Landspeeder and matched the dark red paint. These were cut into sections and applied to the fuselage with liberal application of Micro-Sol to ensure a smooth "painted on" look. I then soaked everything with multiple coats of Dullcote to seal everything and prepare it for weathering.
A combination of paints and chalks were used to give the Landspeeder the combination of stripped metal and dust/dirt buildup appropriate for its time roaming the Tatooine desert. There were several differences between the multiple props used for filming, so rather than replicate one specific look I aimed for a kind of middle ground that felt "right."