Site Features
Getting Started in the Hobby
Model Categories
Original Kit:
Jaguar XK8
Made By:
Maisto
Scale:
1/24

Other Jaguar Models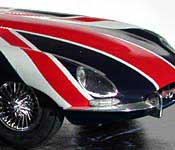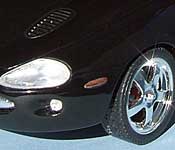 V.I.P. XK8
Austin Powers: Goldmember Shaguar
2006 Jaguar XKR (Review)
The Fast & the Furious XK120
Austin Powers Shaguar
Other 2000s Movie Models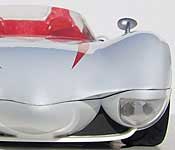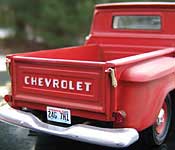 Collier & Co: Hot Pursuit Traveller
War of the Worlds Monte Carlo SS
Resident Evil Raccoon City Police Car
Megafault Dodge Ram
Night Watch Audi TT
Dukes of Hazzard General Lee
Harry Potter Anglia 105E
Death Proof 1969 Charger (Review)
Avatar AT-99 Scorpion
I Am Legend Shelby GT-500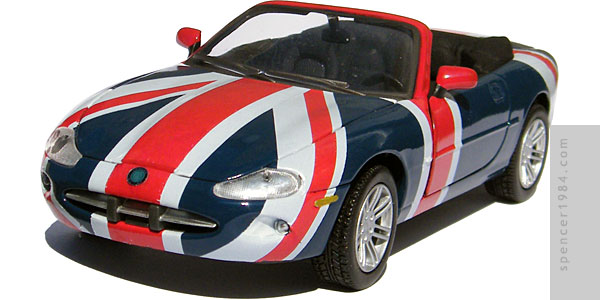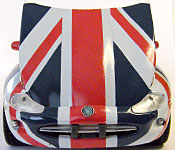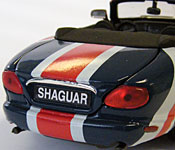 Shown in the movie-within-a-movie introduction to Austin Powers 3: Goldmember, this was the first "spy car" to appear in the series that featured more than a unique paint job (sorry, time machines don't count as spy cars). Among other things, the rear bulletproof screen and remote call features marked this as a truly Bond-inspired machine.
This was a pretty simple repaint of Maisto's 1/24 XK8. Because the lines of the XK8 are much cleaner than those of the XK-E, I was able to recreate the Union Jack paint job using custom made decals over a solid coat of Blue Angel Blue. The car's interior was painted black and detailed to match the Austin Powers car, and it received BMF and custom-made license plates.
I made one last correction several years after this was "finished." When I first worked on it in 2002, there was no source for the correct wheels and I left them as the original first-gen XK8 style. Then I made the Misfile XKR in late 2009, and found myself with a spare set of wheels that could be used on the Shaguar. It took a little longer befre I finally got all the pieces together, but at last I made some adapters from styrene tubing and could finally call the Austinpussy Jaguar properly done.
Have a question, comment, or criticism about this model?
Send me an e-mail
with your thoughts!