Site Features
Getting Started in the Hobby
Model Categories
Original Kit:
Chevrolet Mako Shark Corvette Show Car
Made By:
AMT/Ertl (kit #6133)
Scale:
1/25
Other Corvette Models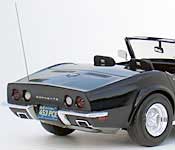 Transformers Vector
'98 Corvette
Agents of SHIELD 1962 Corvette
Matchbox '83 Corvette
Never Too Young to Die Corvette
Transformers G1 Tracks
Stingray 1965 Corvette
Riptide 1960 Corvette
Chuck Norris Karate Kommandos Corvette
'64 Comic Book Batmobile
Mako Shark Show Car
'06 Indy Pace Car (Review)
'06 Corvette 1 (Review)
A-Team Corvette
The Dead Pool R/C Corvette
'72 Comic Book Batmobile
The Junkman 1981 Corvette
Corvette Fighter Craft
'64 GS
'05 Indy Pace Car (Review)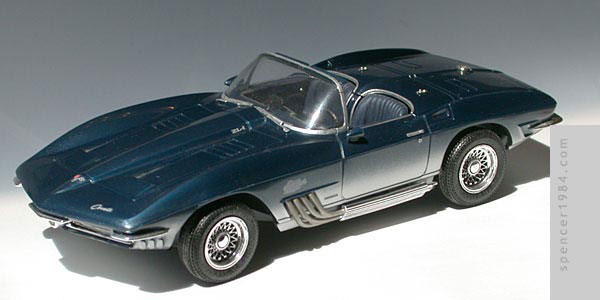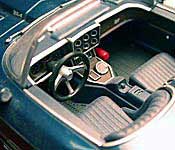 Cool Fact
Legend has it that GM Design Chief Bill Mitchell tasked his crew with painting the Corvette to match a Mako Shark he had caught off the coast of Florida. Unable to make the car match the fish, the painters "borrowed" the mounted fish from Mitchell's office long enough to repaint it to match the car.
This kit is built entirely box stock; even the factory paint job was pretty good, so the only thing I did was paint the details.
Details that required painting included the taillights, interior trim, sunvisors, and body trim. Almost everything else was already painted, and stickers/decals were provided for some trim and interior details.
I was very impressed with the level of detail on this kit. Everything fit together well, and the kit displays well when completed. If I had any complaint about the model, it would be the fact that AMT placed the screw holes just under the bumpers, visible from just about any angle. If they had to put the holes there, it seems they could have at least provided plugs or a separate fascia to hide them.
Have a question, comment, or criticism about this model?
Send me an e-mail
with your thoughts!