Site Features
Getting Started in the Hobby
Model Categories
Original Kit:
Fast & Furious [Fast Five] Rio Police 2011 Dodge Charger Pursuit
Made By:
Greenlight Collectibles
Scale:
1/24

Other Fast & Furious Models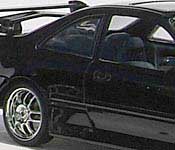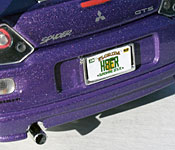 Spy Racers Rally Baja Crawler (Review)
The Fast & the Furious RX-7
Furious 7 '70 Road Runner (Review)
Furious 7 Maximus Charger (Review)
Furious 7 '70 Charger (Review)
Furious 7 Nissan GT-R (Review)
Furious 6 Nissan GT-R (Review)
Furious 7 '72 'Cuda
The Fast & the Furious Civics
2 Fast, 2 Furious Evo VIII (Review)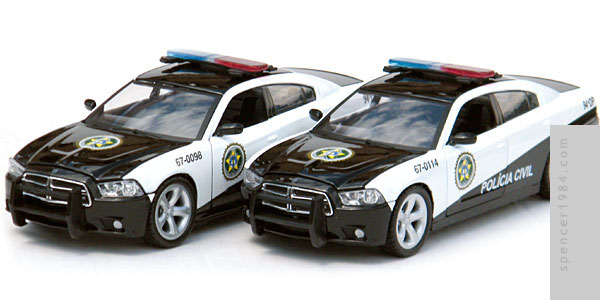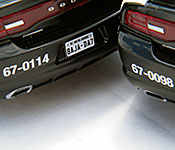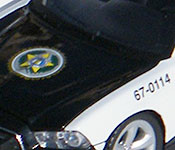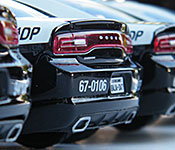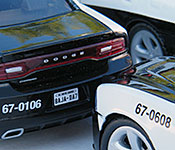 When I wrote the review for this diecast, it hadn't occurred to me what an opportunity Greenlight missed to get the most out of this casting: there were four nearly identical cars used in that scene from Fast Five, why not offer the same casting with four different fender markings? Maybe I'm the only one dumb enough to buy the casting four times. If so, it wouldn't be the first time.
Making the team is actually pretty straightforward: a little nail polish remover to clean off the old graphics, some polishing to smooth out the finish, and a new set of numbers for the front fenders and rear bumper. The biggest challenge was getting the old numbers off without destroying the paint underneath. My efforts were not 100% successful, but with a little touch-up (including that missing paint app on the top corners of the front bumper), the end result looks pretty decent.
Have a question, comment, or criticism about this model?
Send me an e-mail
with your thoughts!