Made By:
Jada Toys
Scale:
1/24
MSRP:
US$49.99
Overview:
Packaging (Design):
9/10
Packaging (Durability):
9/10
Casting (Body):
9/10
Casting (Interior):
8/10
Casting (Chassis):
6/10
Casting (Engine):
7/10
Paint (Exterior):
9/10
Paint (Interior):
10/10
Paint (Trim/Graphics):
9/10
Overall Panel Fit:
9/10
Total Score:
8.5/10

Other 1980s Movie Models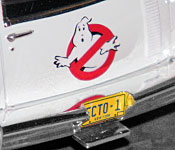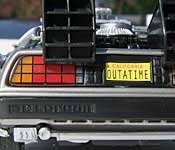 The Junkman 1981 Corvette
Ghostbusters 2 Ecto-1A
Rain Man Buick Roadmaster
Gotcha! Citroën 2CV
BTTF3 DeLorean (Review)
Ghostbusters Ecto-1
Blues Brothers Bluesmobile (Review)
Tucker: The Man... Tucker (Review)
Transformers Optimus Prime
Transformers Hot Rod (Review)
Gremlins VW Beetle
Cobra Mercury
Never Too Young to Die Corvette
BTTF DeLorean (Review)
Back to the Future DeLorean
The Dead Pool R/C Corvette
The Philadelphia Experiment Charger
BTTF2 DeLorean (Review)
Stroker Ace Thunderbird Stock Car
Romancing the Stone Little Mule
Other Cadillac Models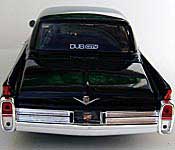 '83 Presidential Limo (Review)
Elvis '55 Fleetwood (Review)
The Real Ghostbusters Ecto-1
'63 Series 62 (Review)
Nightmare on Elm St '58 S.62 (Review)
Ghostbusters Ecto-1 (Review)
3000 Miles to Graceland '59 CDV
Ghostbusters 2 Ecto-1A
ZZ Top CadZZilla
Ghostbusters: The Video Game Ecto-1B
The Godfather '55 Fleetwood (Review)
'38 Presidential Limo (Review)
Nightmare on Elm St '58 S.62
Ghostbusters Ecto-1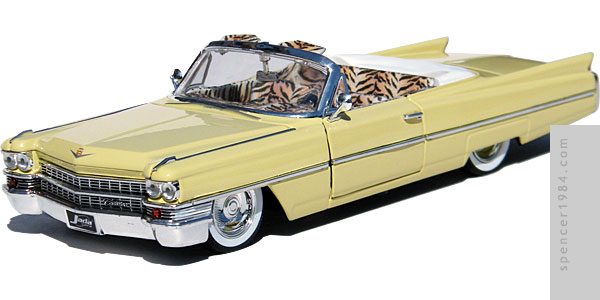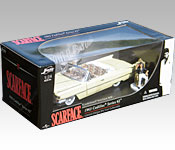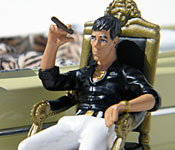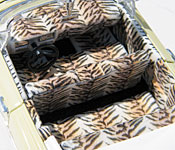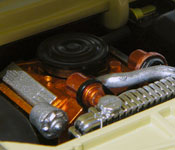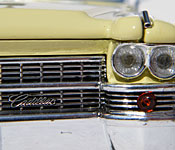 Background
In 1983's Scarface, Tony Montana (Al Pacino) is a Cuban refugee who becomes a powerful drug kingpin based on nothing more than his force of will. As he moves up the financial ladder, his cars reflect his status: a beat-up '68 Impala with no hubcaps at the beginning, and a Rolls-Royce once he's at the top. Between those two he owned a '63 Cadillac Series 62 with tiger-striped upholstery that he felt was showing how far he'd come. Elvira Hancock (Michelle Pfeiffer) was less impressed by the ride, calling it "somebody's nightmare" and prompting Tony to look into purchasing a new set of wheels
Packaging
The Scarface Cadillac uses a unique black window box that's slightly larger than their standard design. The movie logo is in the lower left corner of the front panel, next to the Universal logo and below the Jada Toys logo and scale/age restriction. "1963 Cadillac Series 62/Limited Edition Die Cast Collectible" is printed under the window, and the iconic black & white image of Pacino is printed to the right of the window next to the safety warning. The top of the box has the Title, "1963 Cadillac..." description, and Jada logo. Each end flap has the Jada logo, Tony Montana's "TM" crest, and the movie title and vehicle description. The back of the box has a large still from the film overlaid with a brief synopsis of the story. The Jada logo, movie title, and vehicle description are all repeated here as well, above a large "www.jadatoys.com." Inside, the car is held to a plastic tray with two small screws. Heavy cardboard has been printed black with the "World is Yours" globe from the film, then folded and taped into place to form a backdrop for the car and figure. Tony is held to the tray near the Cadillac's left rear wheel by a pair of twist ties, and "1963 Cadillac Series 62" is printed on a sticker just in front of the Cadillac. A wide plastic band holds the doors closed, while two thinner bands hold the hood and trunk closed.
Casting/Paint
This is essentially a modified reissue of their Dub City '63 Cadillac, and has retained all of that release's high points. It still has the clean casting, excellent panel fit, and nicely detailed work. The chrome is still bright and clean, and the paint is still smooth and glossy (light yellow instead of black this time around). The only differences are the lack of "OLDSKOOL" graphics and a convertible boot in place of the hardtop. The less-than-impressive chassis is identical to the previous release, though it now rides on stock wheels with chrome hubcaps and wide whitewalls. These are very well done, with cleanly printed sidewalls and sharp casting. The rear license plate is a Florida "Montana" vanity plate, and the front is the Jada logo.
The differences between this and the earlier release start under the hood. Instead of the modern V8, this has a simplified but passable representation of the stock 390cid V8 with A/C option. For some reason it has been painted with an eye-searing combination of metallic orange, silver, and lime gold. Presumably this was done to mimic the over-the-topness of the interior, but it hurts the overall look instead. Best keep the hood closed. The trunk is a simple black cavern, and looks much better.
The interior is really the showpiece of this replica, and Jada did not disappoint. Not only does it have the appropriate tiger striping, the seats, dash, door panels, floor mats, and sun visors have been flocked to create legitimately fuzzy surfaces. The panels have darker and lighter areas with soft fades between the colors, and the stripes have just enough blurring to create a very realistic look. The overall effect is fantastic, and Jada should be congratulated. The only things that aren't flocked are the steering wheel (black), instrument cluster (silver and chrome), and floor (black).
Features/Accessories
The hood, doors, and trunk all open and close with firm but easy movements. There is also a 1/24 version of Tony sitting in his throne, and it's actually not a bad representation for a mass-produced figure in this scale. It's more of a competent caricature than a true likeness of Al Pacino, but that's still far better than some we've seen. There's even a tiny but clear scar painted on the figure's left cheek and brow.
Accuracy
There are a few minor issues: the whitewalls are a bit too wide, the color looks a little desaturated, and there is one too many mirrors to match the movie car. We never saw the Caddy's license plates, so the rear vanity is as good a choice as any (though it's a little squat compared to a legitimate US plate). The front plate is obviously fantasy, though credit to Jada for recognizing that Florida does not issue front license plates.
Overall
I've mentioned elsewhere that sometimes manufacturers can get away with reusing existing toolings to make "star cars" without the result falling flat, and this is probably one of the best reuses I've seen. This was one of Jada's better castings (and was also one of their few to actually come close to a true 1/24), and Tony Montana's Cadillac is an immediately identifiable car from what's become a classic movie. By going the extra mile on the interior, then including a decent figure, Jada has more than made up for any minor accuracy issues. A must-have for movie car collectors.
Have a question, comment, or criticism about this review?
Send me an e-mail
with your thoughts!