Site Features
Getting Started in the Hobby
Model Categories
Original Kit:
Smokey and the Bandit Pontiac Firebird
Made By:
Revell (kit #1562)
Scale:
1/25


Other Burt Reynolds Models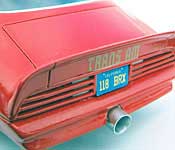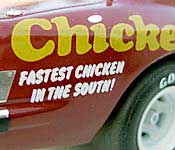 Smokey & the Bandit Firebird T/A
Hooper Firebird
Smokey & the Bandit 2 Firebird T/A
Stroker Ace Thunderbird Stock Car
Sharky's Machine Dodge Diplomat
Other Firebird Models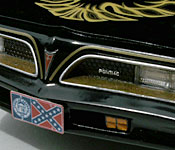 Thunderbolt & Lightfoot Firebird T/A
'72 Trans Am (Review)
Turbo Teen
Smokey & the Bandit 2 Firebird T/A
Coors Bandit (Review)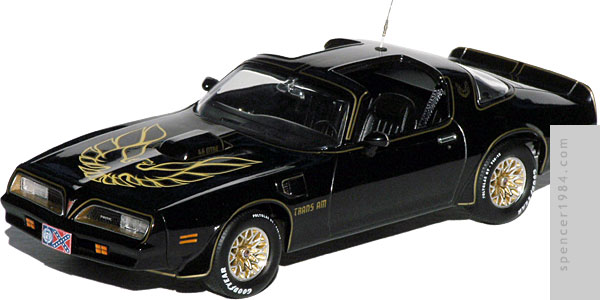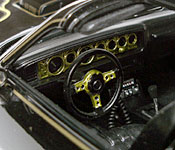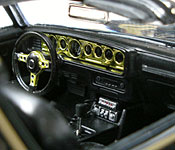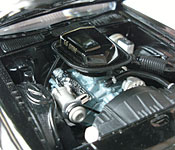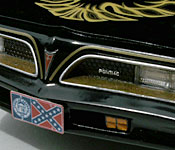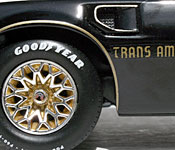 Cool Fact
Buford T. Justice was the name of a real Florida Highway Patrolman known to Burt Reynolds' father who was once Chief of Police of Jupiter, Florida.
The Firebird T/A from Smokey and the Bandit is a car I've wanted to add to my collection of movie cars for quite a while, but for many years the only kit available was AMT's MPC-era Firebird kit. I was never satisfied with the pinstripe decals on that one, so the project remained on the "wanted" list until Revell came out with their diecast kit (I've since found out that aftermarket decals are available, but the Revell kit is pretty good).
The kit is built box-stock, with only the addition of detail work. The chassis was painted and weathered lightly, and the engine was painted the appropriate factory colors. Inside, I added carpeting and Bare Metal Foil, and detailed the CB radio with a wire coil.
The predecorated body was left alone for the most part, though I did add the missing "Trans Am" text to the front fenders and trunk lid. I also hand painted gold stripes around the sideview mirrors, and redid the terrible gold/black paint mess around the grill openings. For some reason Revell did the "BAN-ONE" license plate in the rear, but omitted the front Georgia flag plate (fortunately this was easily remedied). The final detail I added was the CB radio antenna, made from a piece of wire with a scratchbuilt plastic-and-wire base.