Made By:
Jada Toys
Scale:
1/24
MSRP:
US$24.99
Overview:
Packaging (Design):
8/10
Packaging (Durability):
7/10
Casting (Body):
9/10
Casting (Interior):
9/10
Casting (Chassis):
8/10
Casting (Engine):
8/10
Paint (Exterior):
9/10
Paint (Interior):
N/A
Paint (Trim/Graphics):
9/10
Overall Panel Fit:
9/10
Total Score:
8.4/10

Other Police Models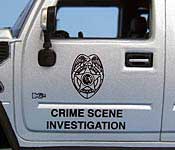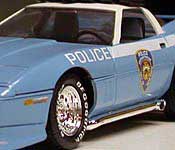 Blackhawk PD Concorde
Resident Evil Raccoon City Police Car
Transmorphers: Fall of Man Crown Vic
Jaws Blazer
iZombie Police Car
Transformers: RiD Diablo
You're Under Arrest Crown Vic
Mad Max V8 Interceptor (Review)
Transformers 280ZX
Piranha 3D Crown Victoria
Other Jada 20th Anniversary Models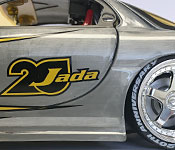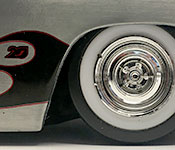 1951 Mercury (Review)
1959 Volkswagen Beetle (Review)
1969 Chevrolet Camaro (Review)
1955 Chevy Stepside Tow Truck (Review)
2010 Chevy Tahoe (Review)
1939 Chevy Master Deluxe (Review)
1993 Mazda RX-7 (Review)
1962 Volkswagen Bus (Review)
1958 Chevy Impala (Review)
1963 Chevy Corvette Sting Ray (Review)
2011 Ford SVT Raptor (Review)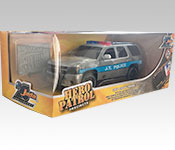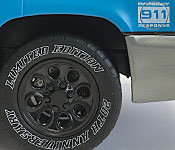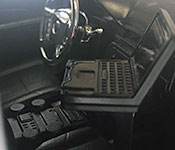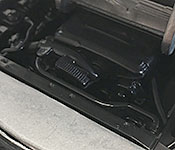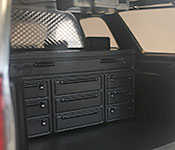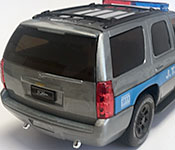 Background
To celebrate America's Finest, Jada Toys introduced Hero Patrol in 2011. This line included high-quality replica police vehicles from real precincts around the country.
Packaging
The Tahoe's box is, like the rest of the 20th Anniversary line, nearly identical to the Impala's. The right end of the box is changed as usual, this time to a full-color overhead view of a police Mustang and some pavement with angled orange lines painted on it. "Hero Patrol (Precincts)" replaces "Street Low" on the bottom left of the front panel and back of the box.
Casting/Paint
Jada's "Hero Patrol" line was a bit of a departure for them, as there were almost none of the style elements we expect from them: no exaggerated proportions, radical stance, or funky wheels. Just a solid, clean replica of a typical American police vehicle. The quality is still there, with clean casting on the metal body and excellent panel fit for the hood, doors, and tailgate. The metal body is accented with black plastic for the push bar, grille, running boards, roof rack, and rear license plate holder; dark transparent smoke plastic for the headlights, driving lights, and window glass; transparent red for the taillights, and transparent red and blue for the light bar. The sideview mirrors are also black plastic, but have been painted silver and have chrome plastic inserts for the glass.
The "Anniversary" base color of raw metal with a high gloss clearcoat continues, accented here with a bright blue stripe with black pinstripes down both sides of the truck. "J.T. Police" and "Emergency Response/9-1-1" are white against the blue stripe, "Protect & Serve" is written in black text above each front wheel opening, the "20" logo is in black at the bottom front corner of both front doors, and a gold Chevrolet bow tie is centered on the grille bar and tailgate latch. There is a step in the stripe where it crosses from the opening front doors to the fixed rear doors, but otherwise everything looks great. This is the first vehicle in the Anniversary line to not have the series title printed somewhere on the body or glass.
The engine is a simplified but recognizable replica of Chevy's 5.3L V8 cast entirely in black plastic. The interior is cast in the same black, though it is accented by a chrome steering wheel & column, chrome pedals, a clear protective mesh between the front and rear seats, and stickers for the gauge cluster and computer screen. In addition to the mounted computer, there is also a complex radio complete wit ha separate microphone, a separate fire extinguisher mounted next to the driver's seat, and a ten-drawer toolbox in the rear cargo area. Detailing is sharp across the board, and while some extra paint could have helped define things the no-nonsense look is well suited for an official vehicle. Underneath is a decent if shallow representation of the GMT900 chassis with separate mufflers. The wheels are GM's 6-lug, 8-hole steelies over silver disc brakes with red calipers. The tires are the stock work truck style with "Limited Edition/20th Anniversary" printed in white on the sidewalls.
Features/Accessories
The front doors, hood, and tailgate all open and close on smooth-working hinges.
Accuracy
As noted above, the Tahoe is one of Jada's very few "stock" vehicles. Not only does it have the correct contours, it's actually a correct 1/24 scale! The bare metal body with tinted windows help it fit in with the other cars in Jada's Anniversary line, but the look also works great as a stand-alone model.
Overall
Another good entry in Jada's Anniversary line, with the added bonus of being a quality 1/24 scale replica even if you're not a fan of their usual house style.
Have a question, comment, or criticism about this review?
Send me an e-mail
with your thoughts!