Made By:
Jada Toys
Scale:
1/24
MSRP:
US$24.99
Overview:
Packaging (Design):
8/10
Packaging (Durability):
7/10
Casting (Body):
8/10
Casting (Interior):
9/10
Casting (Chassis):
7/10
Casting (Engine):
7/10
Paint (Exterior):
9/10
Paint (Interior):
N/A
Paint (Trim/Graphics):
7/10
Overall Panel Fit:
8/10
Total Score:
7.8/10

Other Street Rod & Custom Models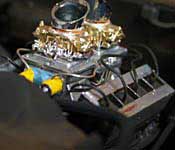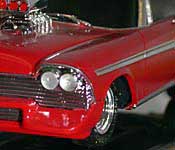 Deuce of Spades '32 Ford
'69 GTO "Supergoat"
'70 Challenger (Review)
'06 Mustang (Review)
American Graffiti '32 Ford
Super Coupe
Street Fury
'06 Corvette (Review)
'48 Cadillac "CadZZilla"
'70 Barracuda (Review)
Other Jada 20th Anniversary Models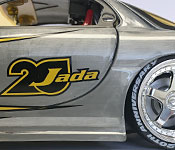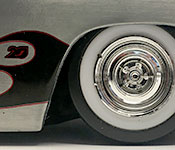 1955 Chevy Stepside Tow Truck (Review)
1959 Volkswagen Beetle (Review)
1951 Mercury (Review)
1958 Chevy Impala (Review)
1939 Chevy Master Deluxe (Review)
1962 Volkswagen Bus (Review)
2010 Chevy Tahoe (Review)
1993 Mazda RX-7 (Review)
2011 Ford SVT Raptor (Review)
1963 Chevy Corvette Sting Ray (Review)
1969 Chevrolet Camaro (Review)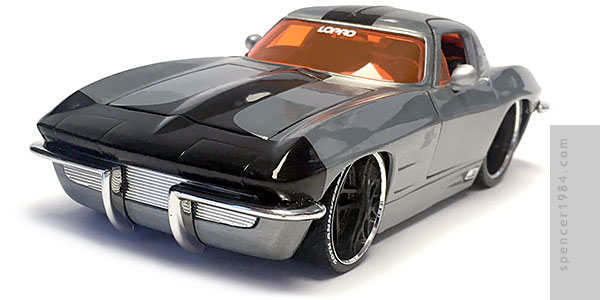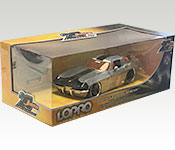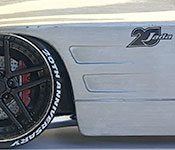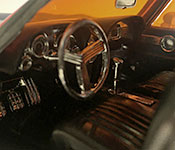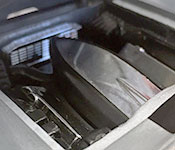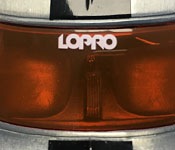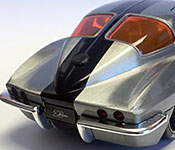 Background
Modern, cutting edge wheel styles and low profile stance is what LOPRO was all about. Released in 2012, Jada Toys revolutionized the die-cast world yet again with innovative, stylish 2-piece wheels that allowed for more clean lines and color choices.
Packaging
Unlike most of the other milestones in Jada's anniversary series, LOPRO was less thematic so much as a literal change to the diecasts themselves. The idea was to take what was essentially Jada's classic "Dub City" series and package them with multiple unique sets of wheels and a way to swap them out. Those packages were some of Jada's first "oversized" boxes thanks to the included tire rack and screwdriver, but there wasn't really much to distinguish the cars otherwise. As such, the LOPRO packaging has a nebulous city scene as the art featured on the lower right corner of the box. It looks fine, just more generic than most of the other cars. Two plastic bands hold the hood and doors closed inside the box.
Casting/Paint
Despite being an older tooling, the '63 Corvette has held up quite well. There is a bit of a step where the drivers' door meets the rear fender, but otherwise the panels all look great with clean casting and smooth finishes. The body, doors, and hood are all diecast, with plastic used for the front and rear fascias. The bumpers and side pipes are chrome plastic, the mirrors are soft vinyl with chrome inserts, the taillights are transparent red plastic, and the license plate is black plastic. The orange tinted windows are rather unique here: at first glance they almost look frosted, with only a few details of the interior easily visible. But looking through them from the inside shows that they're entirely translucent, just highly reflective. It's a neat effect, and the color and way that light effects it reminds me of some 1:1 motorcycle windshields.
Befitting the anniversary line, the main body is clearcoated raw metal with paint matched fascias and mirrors. A gloss black stripe forms a "T" on the body to mimic the classic Grand Sport paint jobs of the '60s. It's a great look, but there's some dust in or under the forward part of the stripe, giving it a gritty feel. A 20th Anniversary logo is on each front fender, "LOPRO" is printed in white at the top center of the windshield, and another "20" logo is also printed as the rear license plate.
Under the hood is a custom black and chrome engine with separate radiator. The interior is black with chrome used for the instrument cluster, glove box, pedals, steering wheel, shift lever, center console, radio, speakers, and door/dash inserts. There is a separate black fire extinguisher mounted between the seats, and the gauge faces are all separate stickers. Underneath is a standard Jada chassis with a separate chrome exhaust pipes and a separate black differential. Wheels are black vinyl mounted on 10-spoke wheels over silver brakes with red calipers. "20th Anniversary" is printed in white on the sidewalls. Despite the LOPRO name, these are not the unique 2-part wheels that were part of that series but are instead standard chrome Dub City-style wheels with painted spokes.
Features/Accessories
The doors and hood open on nice smooth-working hinges.
Accuracy
This is another Jada custom that exists solely for the sake of being a custom, but the bare metal look and color tinted windows give it a nice continuity with the other cars in Jada's Anniversary series.
Overall
The Corvette itself is very well done, but as an homage to the LOPRO series it's kind of disappointing to only get a set of standard Jada wheels. If you happen to have a spare set from one of the previous LOPRO cars, it would be worth doing a part swap to finish the look of this one. Also, the paint problems are relatively small but in such a prominent location that they disproportionately effect the whole car.
Have a question, comment, or criticism about this review?
Send me an e-mail
with your thoughts!