Site Features
Getting Started in the Hobby
Model Categories
Original Kit:
The Jetsons Spaceship
Made By:
Polar Lights (kit #6810)
Scale:
1/24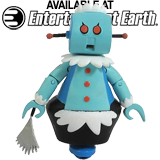 Other Cartoon & Anime Models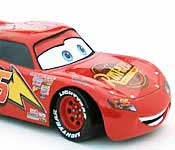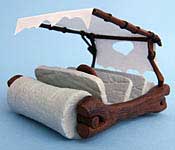 Max Steel Turbo Racer (Review)
101 Dalmatians Cruella's Car (Review)
Urashiman Magna Beetle
Cyber Formula Asurada AKF-11 (Review)
Cyber Formula SIN Asurada Aero (Review)
Rick and Morty Space Cruiser
Jetsons Spaceship
Paprika Aston Martin DB7
Cyber Formula Stealth Jaguar (Review)
Roadster Racers Goofy (Review)
Scooby Doo Mystery Machine
Lupin III Mercedes-Benz SSK (Review)
Flintstones Family Car
Evangelion Renault Alpine A310
M.A.S.K. Firefly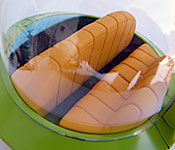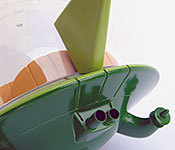 Cool Fact
The third episode of The Jetsons - "The Space Car" - included a scene with an "antique car" that still had traditional wheels.
As with my previous Polar Lights kits, this was pretty good out of the box but needed a few changes to make it what I really wanted. The biggest alteration was the back seat, which was molded with a depression in the middle for Astro to sit in. I filled this in using epoxy putty with grooves cut in it to match the existing seat pattern. I also removed the mounting pegs from both seats and sprayed them with Make It Suede to give them a little texture. I also replaced the steering yoke with a scratchbuilt item, opened up the exhaust thrusters, and lowered the rudder to better match the animation model.
Beyond these small changes, the kit was built box stock. To recreate the animated look, I painted the bottom of the hull and inside of the rudder Testors' Gloss Green, and the rest of the body Model Master Sublime Green. The seats are Krylon Old Equipment Yellow, and the dashboard and yoke are Plasti-Kote Blue Lagoon.