Site Features
Getting Started in the Hobby
Model Categories
Original Kit:
Plymouth GTX
Made By:
Jada
Scale:
1/24

Other Fast & Furious Models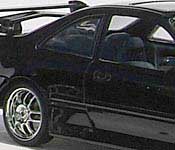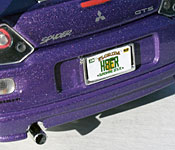 F8 of the Furious Chevy Fleetline
Fast 5 '63 Ford Galaxie
The Fast & the Furious '70 Charger
Furious 7 '72 'Cuda
Furious 7 Toyota Supra
Furious 7 Nissan GT-R (Review)
Fast 5 '11 Charger Police (Set)
Furious 7 Off-Road '67 Camaro (Review)
The Fast & the Furious Chevelle
2 Fast, 2 Furious Evo VIII (Review)
Furious 7 '70 Charger (Review)
Fast 5 Nissan GT-R (R35)
F8 of the Furious Rally Fighter (Review)
The Fast & the Furious RX-7
Furious 7 '70 Road Runner (Review)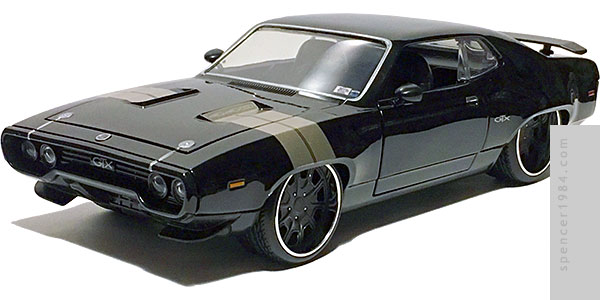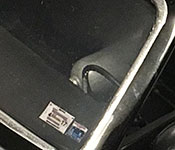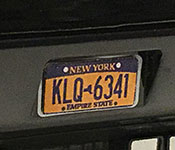 This was actually supposed to be a review rather than an upgrade. But as I was removing it from its package, I discovered that Jada's packers had really cranked down on one of the screws that held it to the base and partially rounded out the head. Frustration got the better of me after fighting with the box for a few minutes, and I ended up literally tearing the screw out of the bottom of the car (taking a small chunk of the chassis with it). This kind of changed my perspective (and meant I no longer had the box), so I decided to embrace the new direction and make a mild custom out of it.
The single biggest problem with the GTX was the headlights, which were cast in clear plastic but inexplicably painted silver. I disassembled the car and cleaned these off with some Testors thinner, then gave them a light polishing to remove any persistent swirls. As long as it was apart, I also glosscoated the front bumper, painted the parking lights, and did some interior upgrades. The steering wheel looked like an inner tube, so I pulled it out and replaced it with one from my parts box. I then painted the nitrous bottle and seat belts.
With all this done, the car went back together and got a few final details. I painted the window trim with Molotow's liquid chrome, and added a screen-accurate rear license plate and a set of New York state windshield stickers.