Original Kit:
Rick and Morty Spaceship & Garage
Made By:
McFarlane Toys (#12884)
Scale:
~1/24

Other Cartoon & Anime Models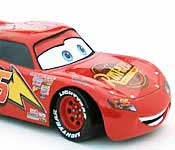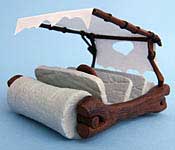 Gunsmith Cats Shelby GT500
Cars Mack (Review)
Who Framed Roger... Benny (Review)
Batman:TAS Batmobile (Review)
Paprika Aston Martin DB7
Cyber Formula SIN Ogre AN-21 (Review)
Flintstones Family Car
Roadster Racers Daisy (Review)
Betty Boop '39 Chevy Deluxe (Review)
Cars 3 Lightning McQueen (Review)
Other Modern TV Models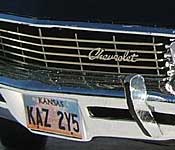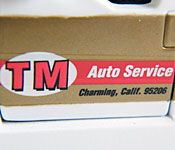 iZombie Police Car
CSI: Miami Hummer
Monster Garage Wedding Chapel
Sons of Anarchy Wrecker (Review)
2½ Men Mercedes
Top Gear Stig
Stranger Things Chevy Van
Supernatural Impala (Review)
Blood Drive Camaro
Robot Chicken Turbo Teen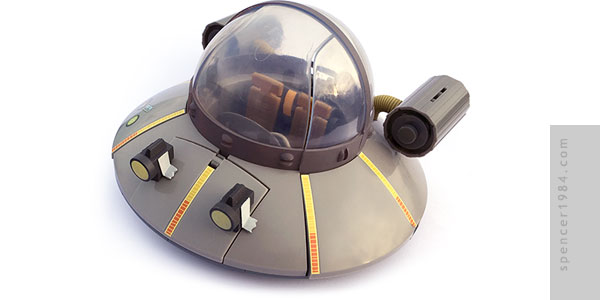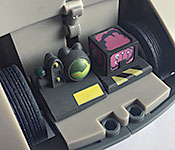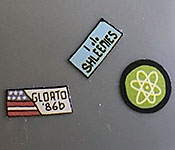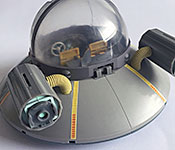 I've been wanting a replica of Rick's Star Cruiser since I first saw Rick and Morty, but had always assumed it was going to be a scratch build. Even if we did see official merchandise, it would likely be some small tchotchke or a larger toy to go with more traditional action figures. Then at Toy Fair 2017 I saw McFarlane's prototype for the ship and was sold immediately. True, it actually comes as part of a larger set - the garage is the largest set in the whole series - but the ship is what I was really after and it does not disappoint.
It's not perfect, mind you...the way McFarlane did the canopy is as good as it could be, but it's pretty much impossible to make four pieces (three of which move) form a single dome. I personally would have ditched the working doors and just made it a single piece that hinges at the back or lifts off entirely. If i find a good glass or clear plastic dome that's the right size, I'll probably replace the kit-supplied parts.
Aside from the dome, I really have no complaints at all. Construction was basic but not insulting, and once it's together it has some fun working features like the opening hood, swing-out doors, and rolling wheels. The wheels are the same ones McFarlane has been using since Dale's camper, but they're sufficiently hidden here so they look fine. The front hatch is on a double hinge that lets you see the engine with its Microverse Battery. The tops of the front wheels are also visible, but they aren't so intrusive as to be a problem. Inside, there are two brown seats, a curved dashboard with steering wheel, and the neutrino bomb in the back. The dashboard face is a sticker, but the steering wheel is a separate pice (full round like we usually see, but you can change it to control yoke style with a couple of snips).
The outside of the ship is two-tone gray with both cast and painted colors, and the radial stripes are stickers. Be sure to follow the directions when applying these: they all look very similar, but several of them have unique cutouts to fit specific pieces. More stickers are used for the passengers' door, and while the printing is nice & sharp I thought the borders were a little wide so I cut them down a little. The "headlights" are attached to the hood, and the garbage can thrusters on the back are hooked up with appropriate flex hose.
All in all, this is a neat little replica. The parts generally fit together well, and the soft vinyl parts are far easier to assemble here than they were on the Woodbury assault truck. Based on scenes in the show, along with the size of the seats, it fits in very nicely with other 1/24 scale models which just improves things in my eyes. I may make a few upgrades later on, but for now I'm very happy with the job McFarlane did on it.